we've had a few late nights this past week. actually, since school ended and summer started and we moved into the new house, our bedtime seems to have been pushed back some. so our mornings are a bit slow and the girls have been sleeping in a bit. this little one woke close to 9 am after a very late and rough night of some loud, booming fireworks that scared her just a bit. she must have had a very restless sleep!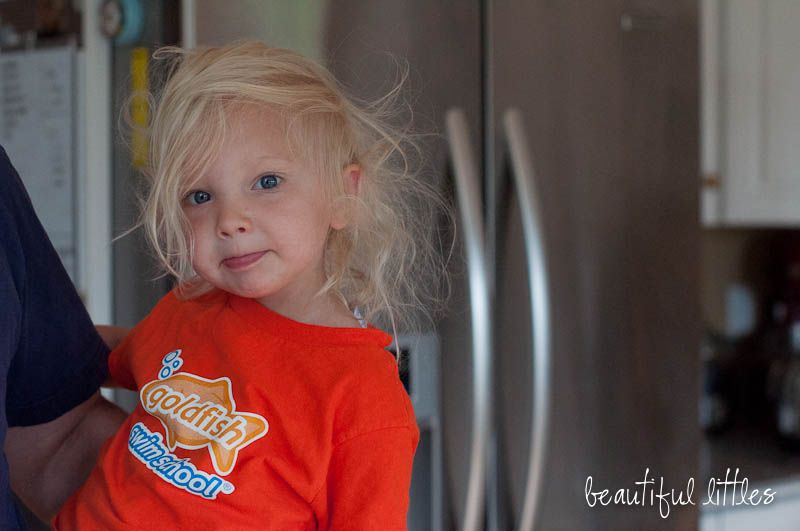 today was another home day. we were able to finish unpacking boxes in our dining room, making our meal space roomier and complete. of course, the curtains and paint need to be updated and i'd love a new dining table eventually (with a bench on one side...swoon), but it's workable for now. i was also able to squeeze in a yoga class, so score for exercise today (i missed the last 2 days). i have been committing to a weekly power yoga class since january at a close studio that i just adore, but the last month has thrown me off with moving so i haven't been. i got back into it today, and found the zen and stretching and strength i missed. i actually was so relaxed that i caught myself falling asleep during the last 5 minute corpse pose. that cued me into the fact that my body is quite exhausted, so when i got home, i announced lunch and a family nap. no one argued. the girls slept for 3 whole hours, and michael and i both napped for a good hour before getting up and finishing a few more things around the house while the girls still snoozed.
we ended the day with dinner and a downtown summer festival with friends. we tried a yummy new restaurant (not new, but new to us), danced and ran to music in the park, and sugared up with ice cream and cotton candy.
smoothie- check. exercise- check. blog post- check. i'm 5 for 5 on 2 of those, and 3 for 5 on the exercise. i'm off tomorrow morning to a spin class with a dear friend to get some motivation and inspiration. i received my spinning certification 2 weeks ago, and am preparing to teach my first team-taught class at my favorite local studio, so
maria
will be giving me some tips on how to set up a class and motivate participants. i'm a bit nervous about teaching my own class, but also pretty excited.
off to bed i go!