lately, i feel like i've been in a funk. actually, i feel like the girls have, too. crosby has been teething off and on for months, and when a new one is coming, it disrupts her eating, her sleeping, her moods. harper has been sick with throw up twice in the last two weeks, but wakes up completely over it the next day. and whether it's growing pains or the lovely age of almost four, girl has been wearing some sassy pants lately. and on some days she changes them into whiny pants, or bossy pants, or emotional pants. whatever it is, it's making me weary.
me? my moods have been all over the map, too. one minute i'm elated and enjoying the beautiful weather and sunshine and warmth. the next minute, gray skies roll in, wind kicks up, temperature drops, rain may fall, and i'm on the verge of screaming or crying or who knows what. it's all way too exhausting.
but i have to keep remembering to look up, and i really have noticed that recently the skies have seemed bluer and the trees have appeared greener. whether it's my mind forcing me to look for those little things and appreciate them or not, i'll take it. i'll keep seeing bluer blues and greener greens and yellower yellows.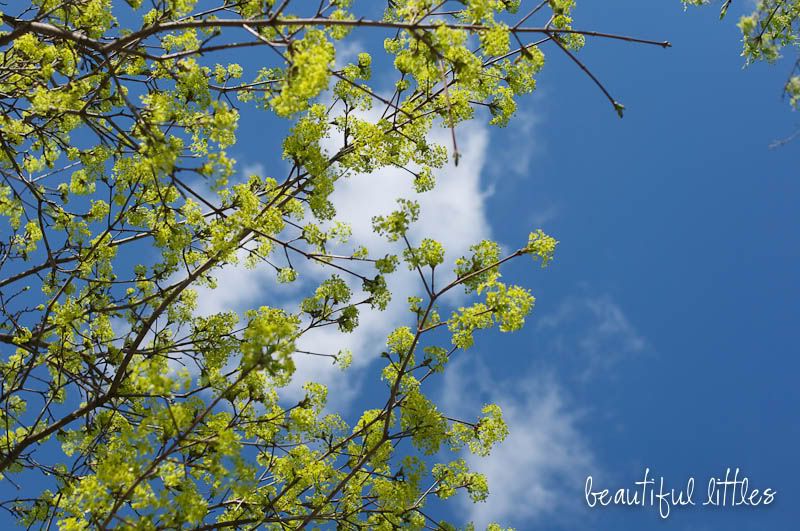 i'll force myself to notice all the wispies on her head that just keep growing, long enough to create a fountain on the top of her noggin. i'll see the sunshine pouring in through our windows.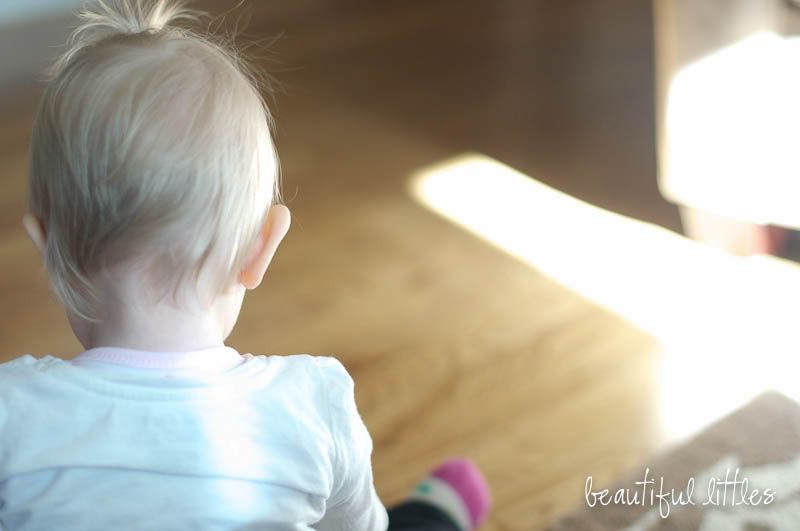 i'll see the shadows that this one makes while she swings, tall enough now to get up on it herself.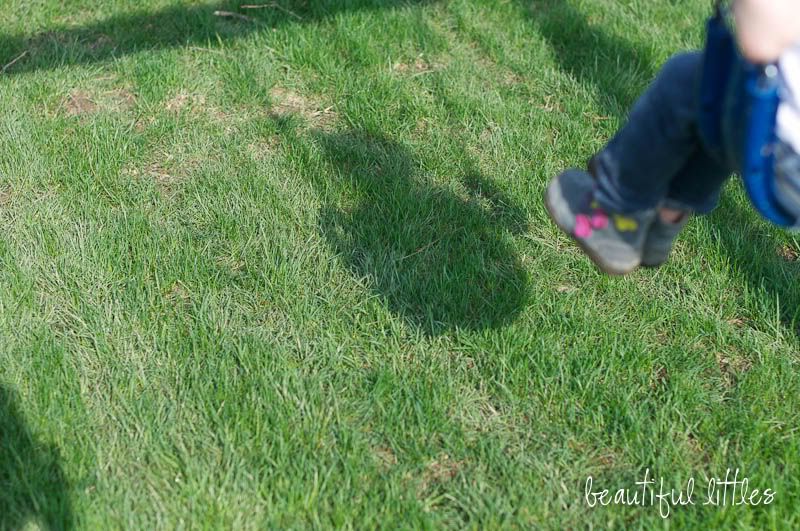 i'll look through my lens and capture those sweet and tender moments between just the two of them, where there's no bickering or screaming or "mine!" only pure, unadulterated happiness.
maybe by continually convincing myself to see those little bits of happiness, i'll zip right through this funk.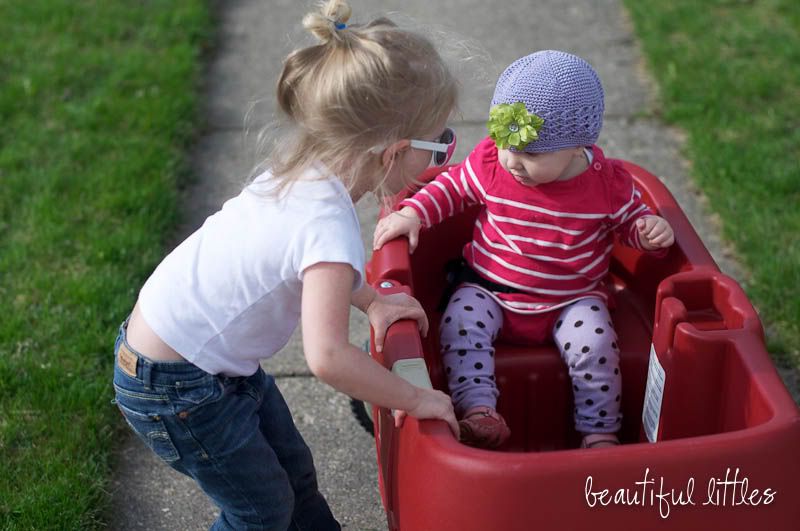 fake it til you make it.
turns out that by opening my eyes a little wider, i notice things that have been around me for a while. things i've moved but never really looked at closely as i clean around them. case in point, the flying pig.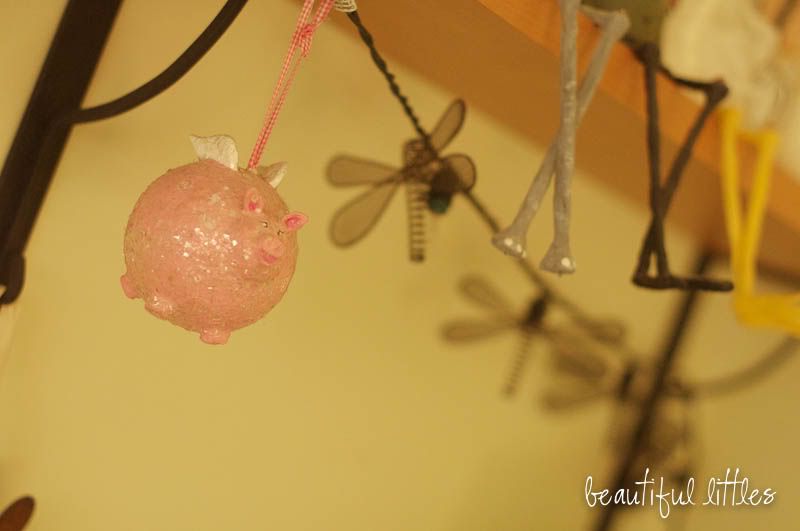 this paper mache artifact that i purchased at a craft show several years ago has graced the girls' bedroom since harper was little. but recently, when i've had crosby standing on her changing table, she's turned around and reached for it. and it was then that i really noticed it, and my mind clicked to the significance.
i've always wanted to tell my girls that they can be anything. that no one can tell them that they can't be and do what they want.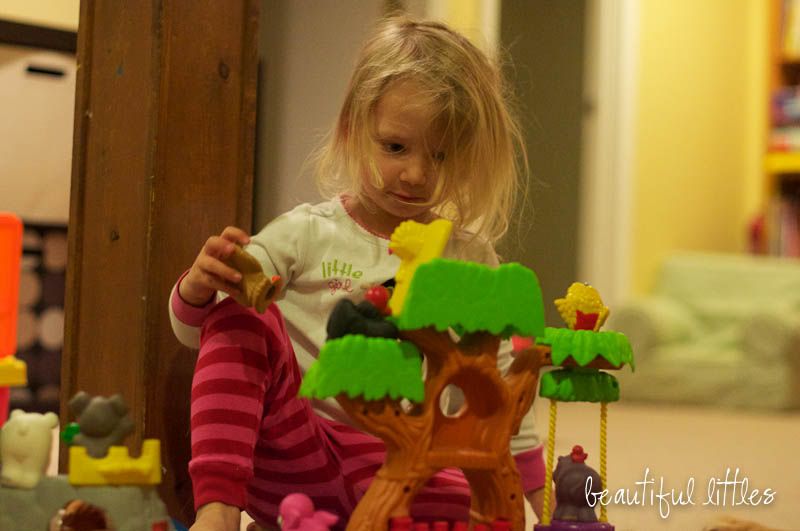 that no one can squash their happiness and desire for wanting to get the most of this little life. that no one, not one single person, is strong enough to hold them back from doing what they are determined to do.
that they can stop listening to their heart song only when pigs fly.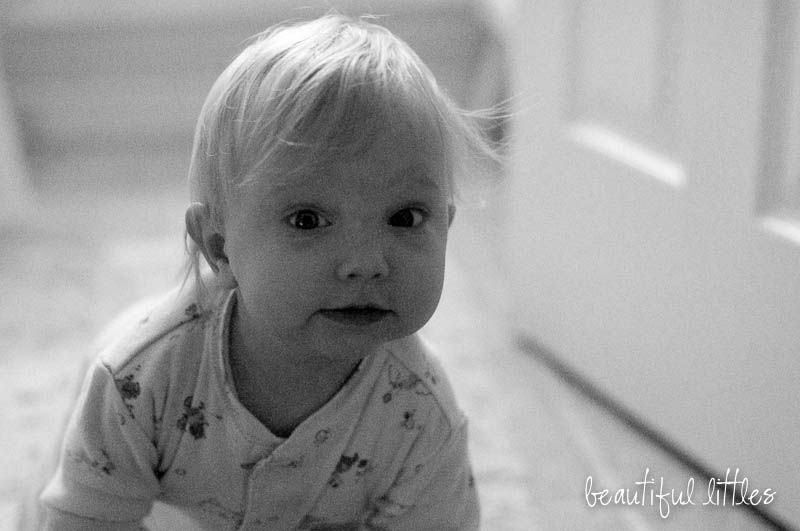 even on that first rainy, cold and windy saturday morning after only a two day reprieve from having the stomach flu, when we dressed harper up in her shin guards, tennis shoes and hat and marched her onto that wide open field (albeit a few minutes late) with her soccer ball to run around and have fun, no one could tell her to be a participant. not the other kids. not the coach. not mommy or daddy.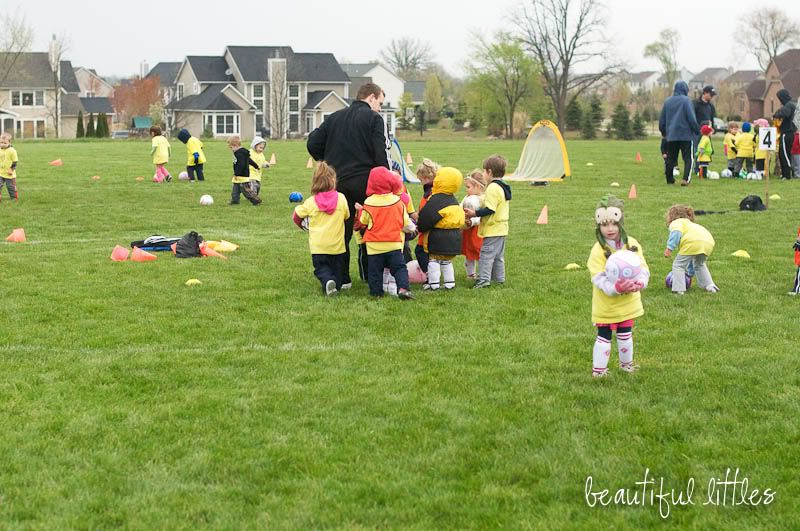 no one could tell that little girl to stop sitting on her ball, licking her ball, stand alone from the crowd. nope. no one was going to tell her what to do. she was determined not to like soccer from the very minute she discovered her coach was a boy.
damn if we didn't try every trick in the book to get her to participate. it just wasn't gonna happen.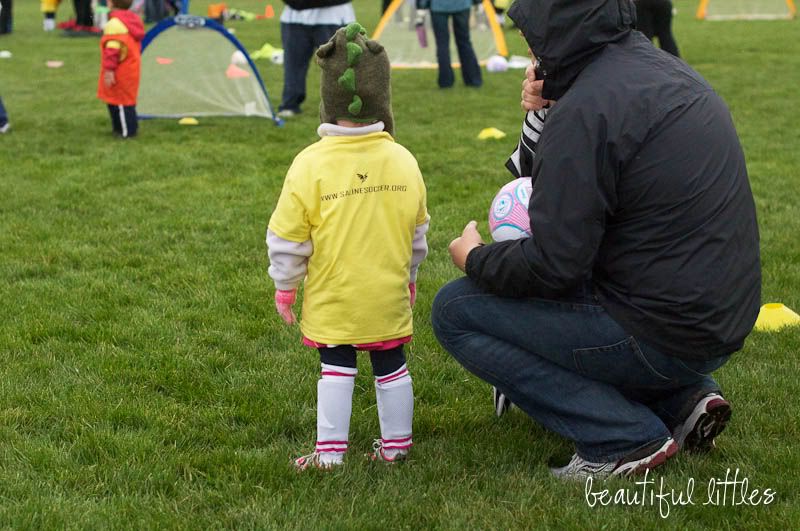 so we ended that first practice with an enthusiastic thumbs up, an atta-girl, and a promise that we would try again next week. that her coach, although he was in fact a boy, was pretty cool. he had a cool name (sy) and a cool accent (british) and she was eventually going to love this sport. we'll see. like i said before, i've been waiting to tell her that no one, not one single person, is strong enough to hold her back from doing what she is determined to do. or not to do. and she may just be determined enough to stand her ground.
but we move on. we forge through our funks. we fake it with smiles and thumbs up and cheers until we actually feel that happiness creep in. and only then can we catch a glimpse of that little pig once again grounded til another day.