where has the time gone? i blinked and it's been over 2 weeks since my last post. we've been on winter break from school since the 17th, and i haven't been able to write once. i've thought about writing this post a million times in my head, but each time i looked at my computer, pondering if i had a brief minute to sit and journal, i was detoured to my to-do list and something else took hold first. so, i sit here on the afternoon's eve of the new year, with a whole mess load of pictures to share and sum up. this post was meant to be several different posts, but alas, i'm summing it up into one large one.
we've done quite a bit these past few weeks. engaged in age-old family traditions and made our own new ones. found time away from work to relax and spend time with friends and loved ones, as well as just ourselves. we've had to find a lot of balance amidst the chaos that comes with the christmas holiday. two friends of mine just this week asked me how i do it all, and i had to admit that i don't. i have to pick and choose constantly to balance the things i want to do
with the things i have to do. i do the activities that mean the most to me, and those that i want to have harper see me enjoy- baking, reading, crafting, photography, blogging, allowing myself to spend time alone with michael and my girlfriends. and most importantly, harper gets a lot of my attention. and i realize more this year than any other before that the house being perfectly spotless doesn't matter in the grand scheme of things. i used to spend every pre-harper saturday morning vacuuming, dusting and mopping the floors on hands and knees, to make sure that i could relax the rest of the weekend. but no more. i realized that it just wasn't important. spending time with harper and family means so much more. the time just goes too quickly.
it always helps to start your balancing with a warm cup of coffee and the return of a favorite holiday creamer.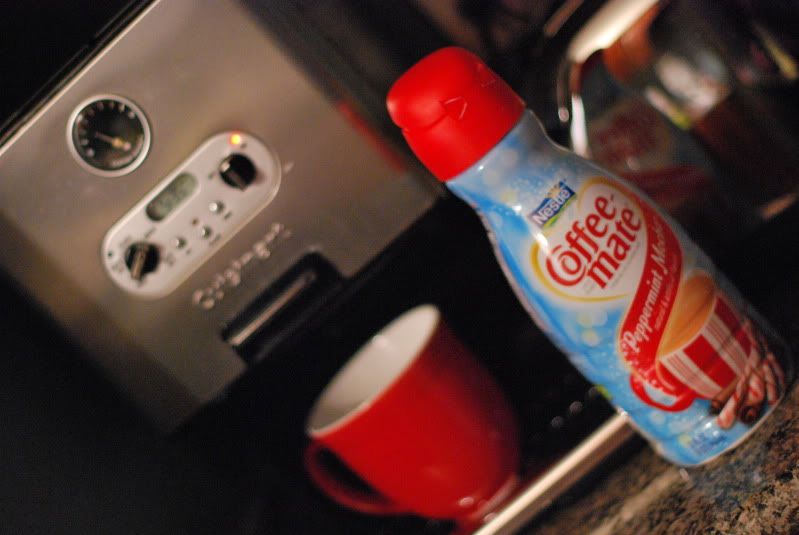 we balance cooking activities and making messes with keeping the house semi-in-order.
we balance bundling up for outside time...
with asking to receive.
happy holidays.