here's the story of my sister and her family, the goodchilds. while on vacation, i snapped some photos for them.
here are my favorites...
and when the sun was just about to fade away, everyone settled and quieted on the beach. even the boogie boarders and surfers in the lake paused and faced the sinking ball of fire to admire the awe and beauty of it all.
and here are the outtakes...
setting up my test shots. nephew #1...
nephew #2...
and daughter. she wouldn't take no for an answer...
when i asked heather to sit down, harper plopped herself right next to her. she was dressed so appropriately for a photo session, too. jammie top and cropped sweats...
here's what my little family did while i was shooting. you're not a man unless you bjorn your baby, that's what i always say.
and then harper jumped right in, quite literally. technically, she is part of the family...
they were cracking up trying to time their jumps. "do we jump on the count of 2 or 3?"
griffin busts out the laughs, ethan at least tries to keep it together...
i can't even remember what i instructed them to do here, but they obviously weren't listening, or else they took it quite literally...
and when all was said and done and i called it a wrap...
ethan: mom, can we go in the water?
griffin: yeah, can we?
griffin: did she really just say that we could go in with our clothes on?
heather: here, emily, get a picture of us. wait, let me fix my hair.
and the boys couldn't resist the waves...
one last pose for the camera. they don't notice the impending wave...
and BAM. now it's officially a wrap.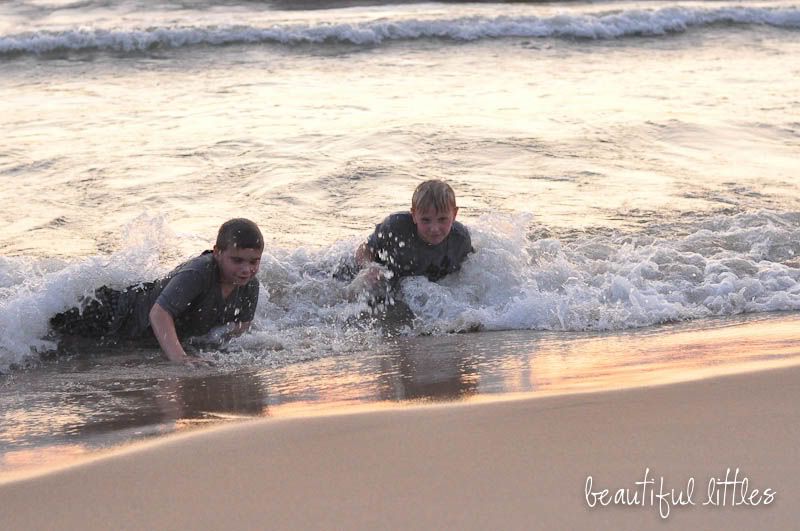 love you guys. xoxo