it's almost the end of august, and we have some catching up to do. i have not taken any photos in the last week. i have not blogged, obviously. i had not even downloaded half of my pictures to the computer til today, much less going through the close to 1000 photos that have been taken since mid-month. but here's a start to my catching up before i head back to work this week and the girls to preschool and daycare next.
first off, when was she allowed to turn 5 months?! when were 5 months permitted to pass in the blink of an eye? um, certainly, i did not approve of this. but alas, here we are. our little crosby is 5 months old.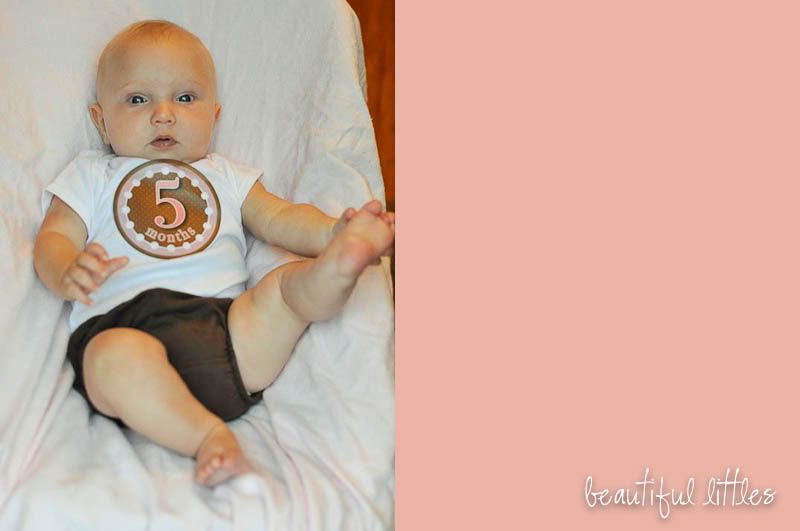 our little flower is blooming before our eyes.
and she is a hoot. she is grabbing for anything and everything she can reach. be it the straw in my cup, the food off my spoon, the toy that harper is playing with, my to-do list.
she is a laughing, smiling, giggling bundle of joy. she is ticklish everywhere.
she has recently found her feet...
...and her voice. i can only summarize it, as i did on facebook, as a mariah carey wannabe intermingled with screams of someone frantically trying to get off a roller coaster at cedar point. it's lovely. it cracks us up, but only when we're not dining in a restaurant and getting looks from all the other patrons. she's also grunting, and i've learned that she does it when she's tired or hungry. or both.
this is my favorite move of hers right now. the superwoman. she's a whiz at this whole tummy time thing. sleeps on her belly, all on her own doing. but when playing she lifts both arms and legs off the ground and soars. she's working on those back muscles, you know.
ah, 5 months. gone in a flash. but it's been a fabulous 5 months i must say. and a fabulous summer. we capped off our summer and michael's end to his first year of his mba with a lake michigan beach vacation. more photos to come, but here's a teaser. this is my absolute favorite picture of the entire vacation. and it sums up our time so well.
beach. water. sunsets. letting our hair down. playing. complete and utter relaxation and freedom. it was my most favorite vacation so far. more to come as i sort through my hundreds of photos.