we're in the middle of winter, albeit we haven't had much snow to prove it, but my little flowers are still growing inside.
*big sister is taking care of little sister, helping her eat to grow stronger.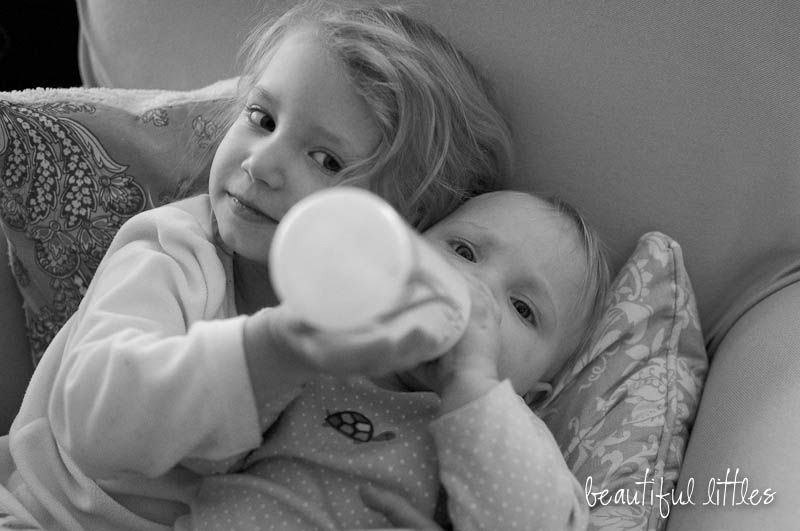 and providing lots of kisses and hugs to support emotional growth, too.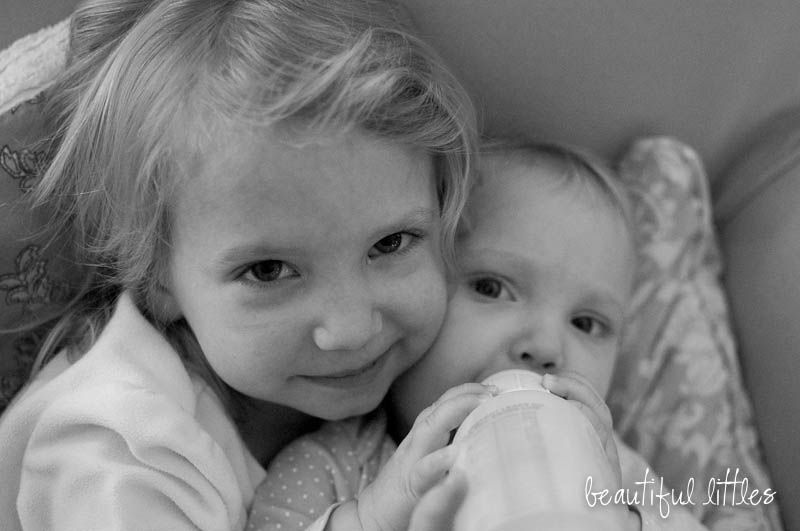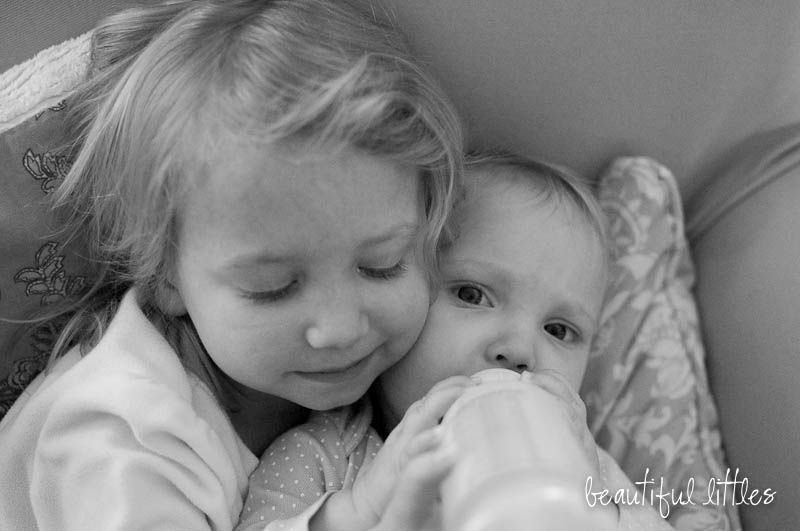 *we're done with our month-long gluten-free challenge, but noticed some great results, like less bloating, no afternoon mid-day slump, more energy and some weight loss. and thus we are continuing to maintain a mostly gluten-free house, which will include the occasional order out full gluten pizza and these fabulous fruity pebbles marshmallow squares (which are gluten-free, and while not healthy per say, they are very delish). more whole, natural foods + less processed junk = better blooming and growing from the inside out.
*i've added green monster smoothies for everyone and wheatgrass shots for michael and i to our regimen. greens absolutely help blooming. smoothies= banana + yogurt + almond milk + peanut butter + spinach = deliciously fabulous, high in protein and health benefits, and not yucky tasting in the slightest. wheatgrass shots taste like fresh-cut grass in the summer. not the best tasting, not the worst, but health benefits up the wazoo. check out the bottom of this post for the reasons why. and thanks to my friend's
danielle
and
maria
for starting this. (michael is really thankful- ha!)
*my girls are sharing a room, blooming their sisterly relationship a ton. it's cute to hear them wake up giggling at each other. not so cute when crosby's middle of the night crying wakes up harper, or harper's once in a blue moon accident wakes up crosby. that's when i curse our small house and dream of the day we can move and the girls can each have their own room. but for now, we step back and punt and enjoy all the positives about room sharing.
*speaking of my friend maria, we joined her at her book launch party a few weeks ago. it's her third children's book, and another fabulous one. you can find pink tiara cookies for three on amazon or at barnes and noble. it's a perfect book for navigating the world of friendship triangles as the girls grow and enter school. we're reading and blooming our minds. (check out her first two books, too- spaghetti in a hot dog bun and juice box bully)
harper was feverish on the day of the launch, so she stayed home, but we brought some goodies back for her and read the book as soon as we got home. she loved that maria signed it to her and crosby. she wanted a photo with her crown, and turned to her favorite page.
*i'm tending to friendships, spending some girl time for brunch with a
very dear friend
. it's pleasant to be able to chat for close to 2 hours with her without being interrupted to get a snack, help build a tower, get out art supplies or clean up after a potty trip.
*independence is blossoming, for both girls. crosby's cruising and increasing speed on her crawl. harper is trying everything herself.
*and the main inspiration for this bloom of a post is this...
it's no secret that i am a huge fan of
kelle hampton's blog, enjoying the small things
. it's been on my reader list and side bar for 2 years. she's down to earth and crafty and a doting mama and such an amazing writer. needless to say, she's written a book that has yet to be released (april 2012), but i have a copy. she posted a contest on her blog a few weeks ago, and just by commenting with a word that would sum up your 2012 (mine was "present" to be more present with the girls this year), i was one of three out of hundreds of commenters who won a signed (!) galley copy. and i'm hooked. as exhausted as i am when i fall into bed, i have to at least read a few pages. it's addicting and eye opening. looking forward to sharing it with book club when it is actually released.
so here we are, blooming and growing in more ways than one. reading, eating, greening, sharing, growing.
loving and living.
**********************
The Benefits of Wheatgrass
Wheatgrass, as the name suggests, is the grass of young wheat plants. It is also a powerful health food supplement that is packed with highly concentrated vitamins, minerals, chlorophyll and enzymes. Nutritionally, wheatgrass is a complete food that contains 98 of the 102 earth elements.
Wheatgrass and

wheatgrass juice

are excellent ways to get dark greens in the diet. Pound for pound, wheatgrass is more than twenty times denser in nutrients than other choice vegetables. Since it is considered a vegetable in the grass stage, wheatgrass is safe for people with wheat allergies. Juicing unlocks even more nutrients from wheatgrass, making them more concentrated and usable to the cells of the body.

Dr. Ann Wigmore, proponent of a "living foods diet", has embraced the benefits of wheatgrass in her teachings and writing. According to Dr. Wigmore, wheatgrass has an exceptional ability to both nourish and detoxify the body.

One of the ingredients with major benefit in wheatgrass is chlorophyll, which has the ability to draw toxins from the body like a magnet. Considered the "blood of plants", chlorophyll can soothe and heal tissues internally. The chlorophyll in wheatgrass is high in oxygen and light energy, which can provide the brain and body tissues with an optimal environment in which to function. The chlorophyll in wheatgrass also has antibacterial properties, which can stop the development of harmful bacteria in the body.

Wheatgrass juice has external benefits as well. It can be used as a scalp treatment to restore luster to hair, as a skin cleanser and astringent, and as a sinus treatment.

Wheatgrass juice can also be added to bath water to stimulate circulation, and it can be applied topically to help heal cuts and bruises. In addition, gargling with wheatgrass juice can ease a sore throat.

A major benefit of taking wheatgrass juice is that it is easily digested with little energy. Wheatgrass provides crude chlorophyll from a living plant, which is the most effective way to gain the full therapeutic benefits of chlorophyll. Just an ounce of wheatgrass juice per day provides a host of benefits, while a therapeutic program to treat a specific condition or illness may include two or three ounces. It is a complete food with no side effects. Many people grow their own organic wheatgrass and use juicers to make their own juice.
One Shot of Wheatgrass Juice
One ounce contains 103 vitamins, minerals and amino acids.

One ounce of wheatgrass juice represents as much nutritional value as approximately 2.5 pounds of fresh green vegetables.

Wheatgrass juice is high in chlorophyll.

It is very high in vitamins A, B-Complex, C, E and K.

Wheatgrass juice is a natural source of laetrile (B-17).

It contains beta-carotene, which is found in red, green and yellow pigmented fruits and vegetables. Beta-carotene acts as a scavenger against harmful molecules flowing naturally through the body or through toxins inhaled from cigarette smoke, air pollution and other damaging sources.

Wheatgrass cleanses, purifies and feeds the body by activating the white blood cells, which boost the body's immune system.

Wheatgrass juice is also beneficial for people who need to lose weight or cleanse their bodies.