glut·ton·ous
adjective
1.
tending
to
eat
and
drink
excessively;
voracious.
hello january 1. hello twenty-twelve. hello once again to the new years resolutions. and mine are filled with challenges this year. starting with my friend, danielle's, monthly challenge for several of us in the mom's/recipe club- spend the month of january gluten free. given that i have been nothing but gluttonous on junk since, well, halloween, i thought it best to give it a shot. from the "just one more" fun size candy bar, to the stuffing and pumpkin pie on thanksgiving, to my first annual cookie exchange in december where we shared 10 dozen delicious concoctions, and culminating with more food and desserts than one should consume over the several christmas holiday get togethers and christmas gifts from co-workers and parents, my body is screaming for some reprieve. mind you, i am actually fairly close to my pre-harper weight thanks to lots of running with my friend katie and weekly spinning classes that i started attending in november, but that doesn't mean my overall health doesn't need some tweaking. so starting tomorrow, michael (he's agreed to try it with me) and i are saying bye-bye to gluten. stay tuned for updates to this challenge, and check out
danielle's blog
. she provides so many yummy and good-for-you recipes and lots of fabulous information for good health.
pre-challenge, though, we spent new years eve at home, quietly enjoying some steak with zip sauce and champagne. michael, harper and i stayed up til 11:15 watching movies on the blow up bed. and while i'm certain harper could have made it to midnight and the ball dropping, us parents just didn't have it in us.
we also had some fun with the camera's self-timer and my fabulous little photographer in the making.
one thing i will never change being gluttonous for, however, is my girls, and that's why i post lots of pictures. and here is the wee one at 8 months...
pulling herself up to standing and being very adventurous...
always smiling...
and cracking us up with her new head tilt. when she's trying to get your attention, or just trying to play with you, she takes a side view.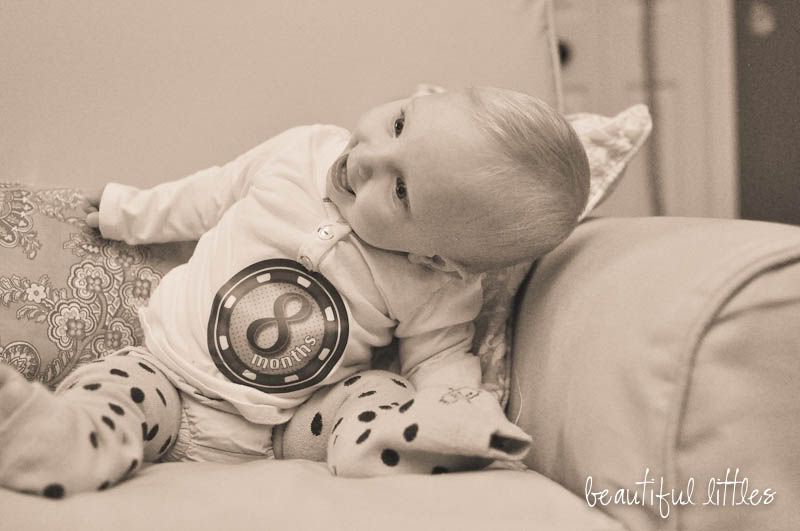 these two are starting to interact much more, and i can't get enough.
oh, and then she went ahead and turned 9 months.
she's standing and cruising, and braving it by holding on to something with only one hand. she's waving and signing
milk
. she's eating, but prefers small bits of finger foods to being fed with a spoon. she's saying
dada
and
mama
and
nana
and
yaya
and
lala.
she's a regular chatty cathy.
she is always happy. she is always smiling. she is pure enchantment and deliciousness.
she is a horrible night sleeper, and is often waking us up 2, 3, 4, 5, 6 times a night. thank goodness she's always happy, cause when she smiles at you at 2 in the morning when you go get her from her crib, you can't help but smile back. she's got our number and she knows it.
ok, off to check the cupboard and make sure there is nothing else that could satisfy my gluten-ous cravings before the challenge begins in less than 3 hours. here's to good health, good changes, and an exceptional 2012.
hope your new year was a happy one.