everyone, meet sarah.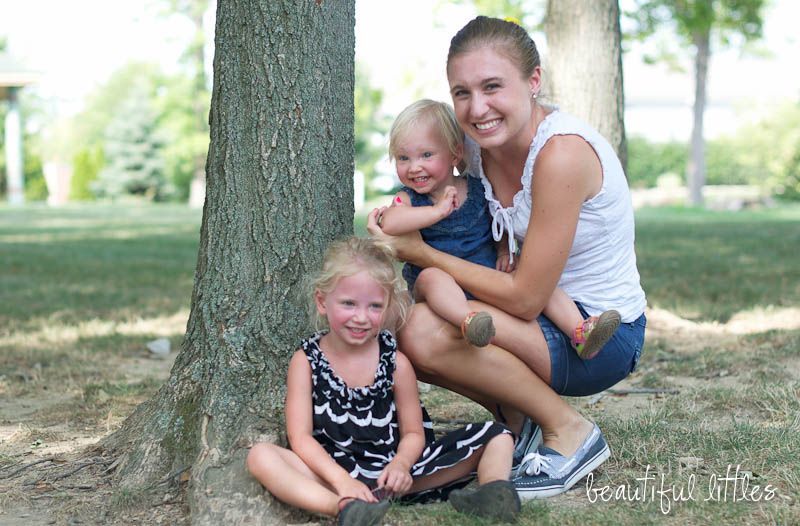 i've
blogged about sarah before
. in terms of family, sarah is my second cousin once removed, and harper and crosby's third cousin. her grandma and my mom are cousins. i knew of sarah long ago, hearing stories and tidbits from my mom about that side of the family, but didn't actually meet her until her great-grandma's funeral in 2008. at that time, sarah was looking forward to starting at u of m nursing school that coming fall, and i was oh-so-very pregnant with harper. her mom raved about her babysitting skills and sarah shared just how much she loved kids and babies, and so i took note of her phone number and agreed to call her when she moved to our area for school. sarah first came over when harper was 3 months old, having asked if i would be willing to let her be a subject for a developmental profile test she had to practice administer for a class. i agreed, and following that visit, sarah started babysitting for us lots.
fast forward to august 2011, and sarah had to go and get a real grown-up job working in a pediatric hospital in ohio on the oncology unit. this was her dream job. this girl is an absolute saint. i hear stories of her days caring for children who have cancer, and i can't imagine how i would handle it. but as always, sarah is positive, graceful and excited to get to spend time with these kiddos. she'll be the first to admit that it's difficult at times, but then she'll push that feeling aside to go and toilet paper one of her patient's rooms just for fun.
since sarah moved away, we've kept in touch via e-mails and texts and through our blogs and instagram. she's visited us a few times when she's come home to see her family, and she also joined us last year at auntie jen and uncle pat's wedding to help us with the girls. we'd talked many times about us going to visit her in ohio, and decided to make a go of it one of our last weekends of summer after finally coordinating a couple days.
we arrived on a saturday morning to her apartment and to some big news. the night before, sarah's boyfriend, andrew, had proposed, and she said
yes
! he was also waiting for us to arrive, and he so enthusiastically shared the engagement story with me (and the fact that he thought long and hard about not proposing that night because he didn't want it to take over our weekend with her...so sweet). we'd met andrew before, and we knew they were smitten with each other. andrew is in med school, also in ohio, and the two have known each other for several years and compliment each other so well. needless to say, we were ecstatic about the news, and excited to celebrate her engagement with a couple fun days.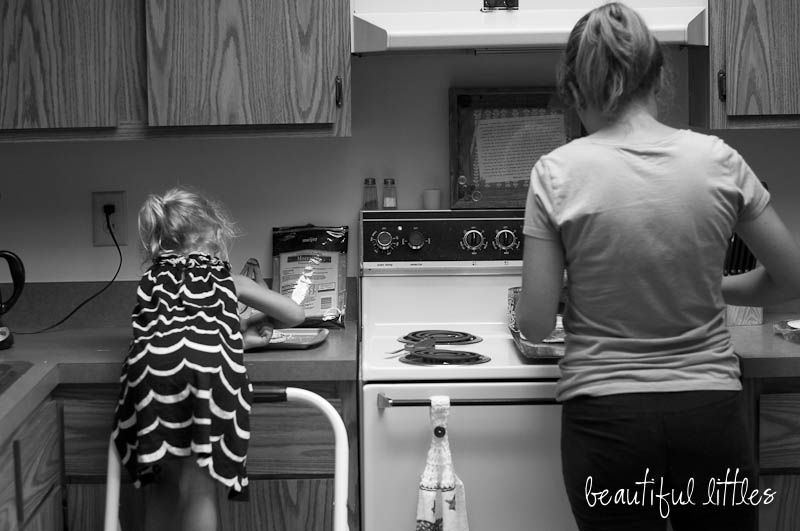 harper really only wanted to hang out in sarah's apartment (mainly because of the promise that she and sarah would get a family room campout on the blow up bed), but we convinced her to go to the pool. we spent the afternoon at an aquatic center, complete with a lazy river and sprinkler park. afterwards, we went for frozen yogurt and back home to make pizzas. the girls played with (and secretly fed) sarah's dog, nari, and played with sarah's box-o-toys. sarah will fully disclose that she still enjoys being a kid, and it's not uncommon for andrew to send her crayons and a canvas to make a craft, or bring over a container of playdoh. we pajama'd up pretty early, settled in for a movie, and by 9 o'clock, we were all zonked out.
the next morning, andrew came over and we decided to head to the zoo. it was a scorcher, but we thought we could handle it. the best part was the new sting ray exhibit, where we were able to touch the rays and feed them. harper asked to do it, but when the fish were shown to her, she chickened out, leaving the task to andrew and me. i do not like fish or sea creatures, but i somehow found my brave-girl pants and did it. heebie jeebies, let me tell you. we moved along to see a variety of animals until lunch, when the girls were getting restless, so we packed up and headed back to the apartment.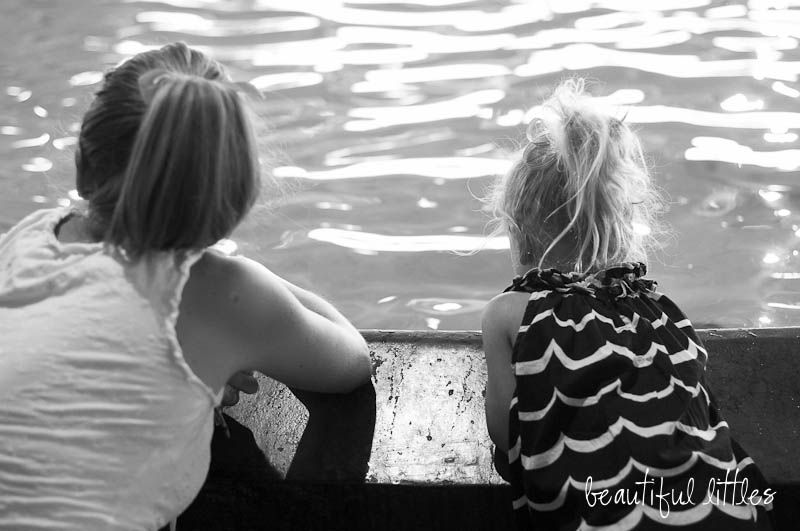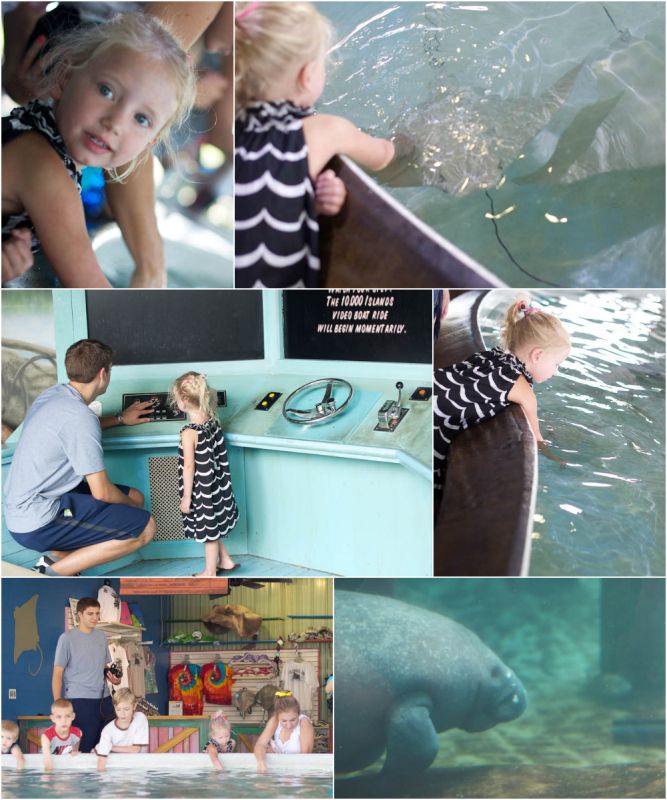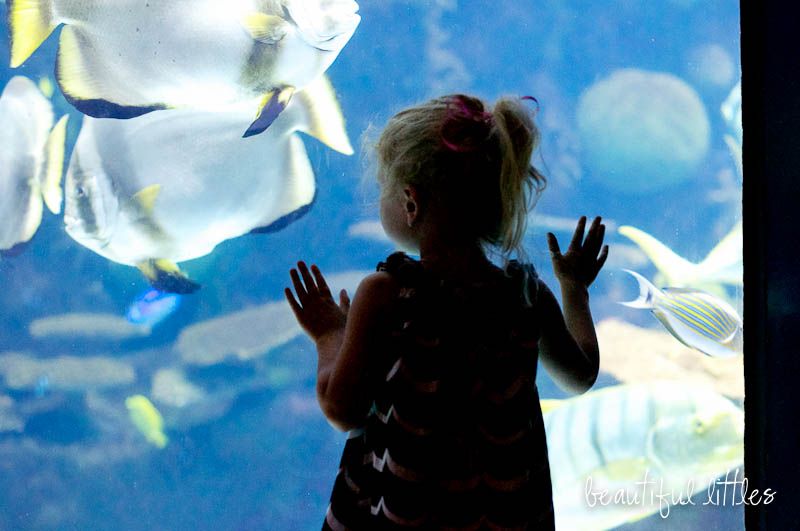 after crosby's nap, we headed to the park and then for more ice cream. we played tag, climbed the jungle gyms, and tasted some really unique frozen dessert.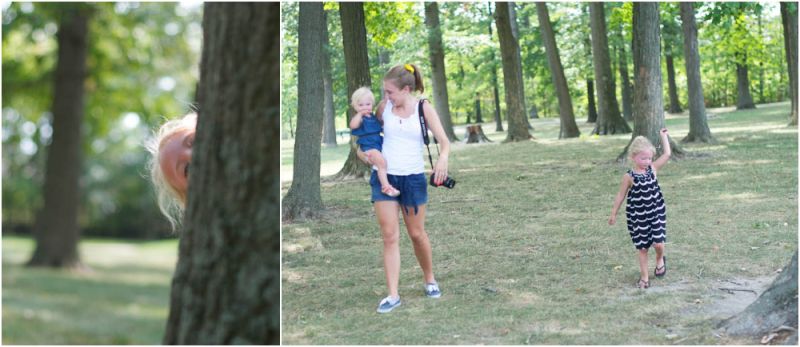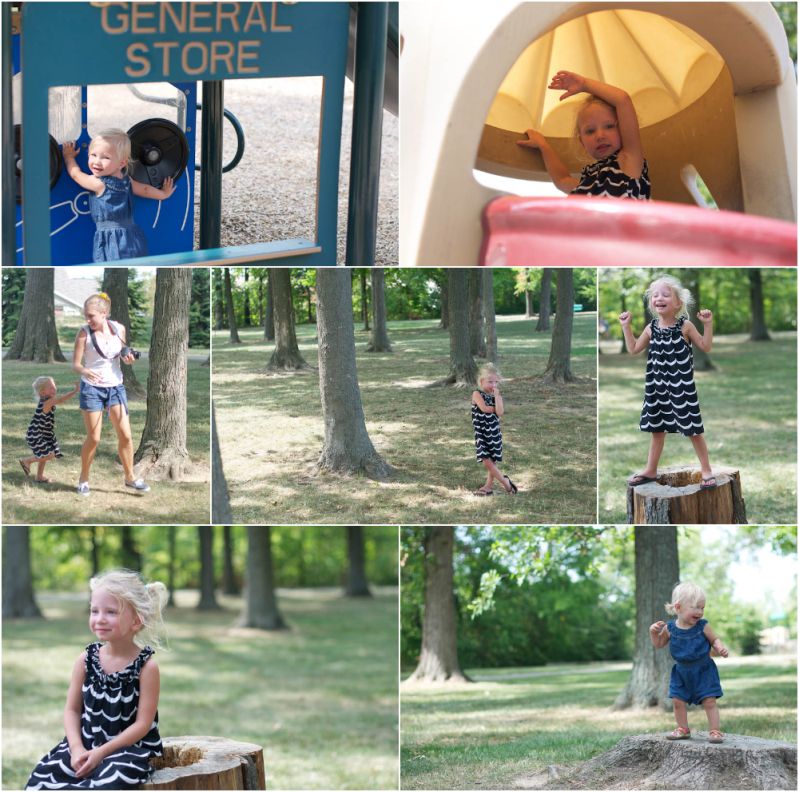 i'm a sucker for decor, and i swear i could have held this place hostage, taking pictures of my girls in every cute little corner. it was, as the name tells, splendid. as was our entire 2 days with sarah.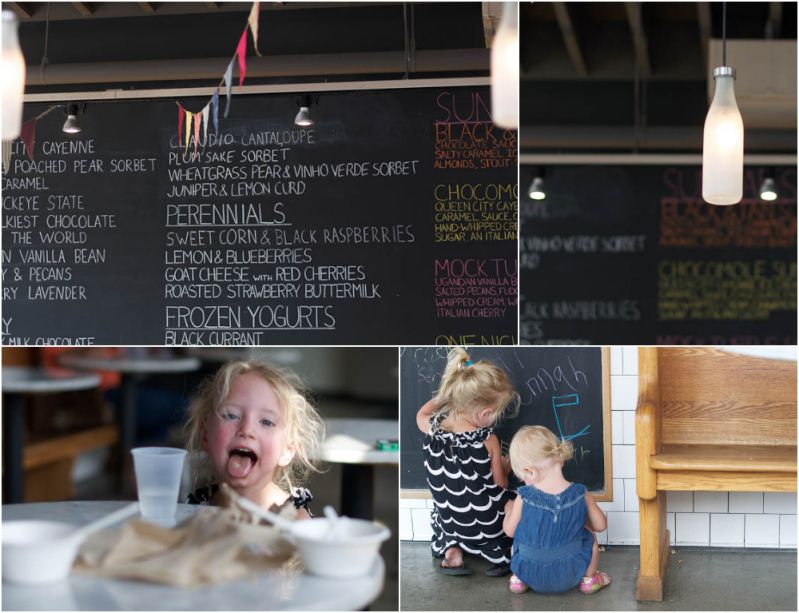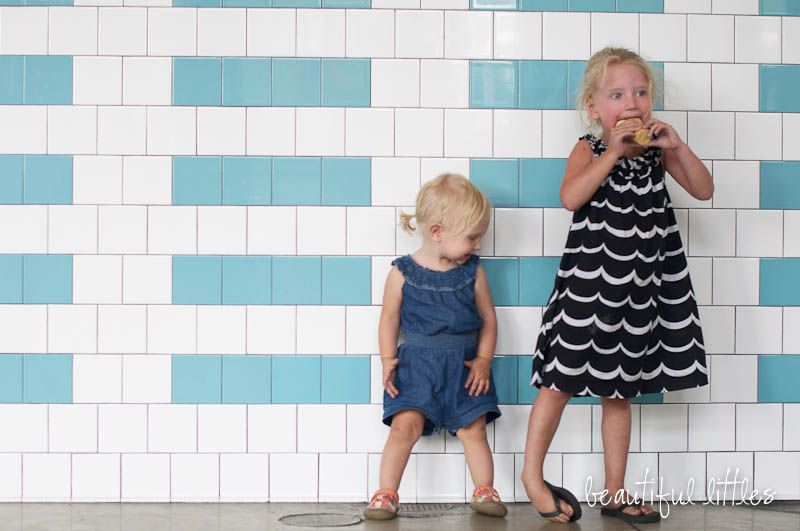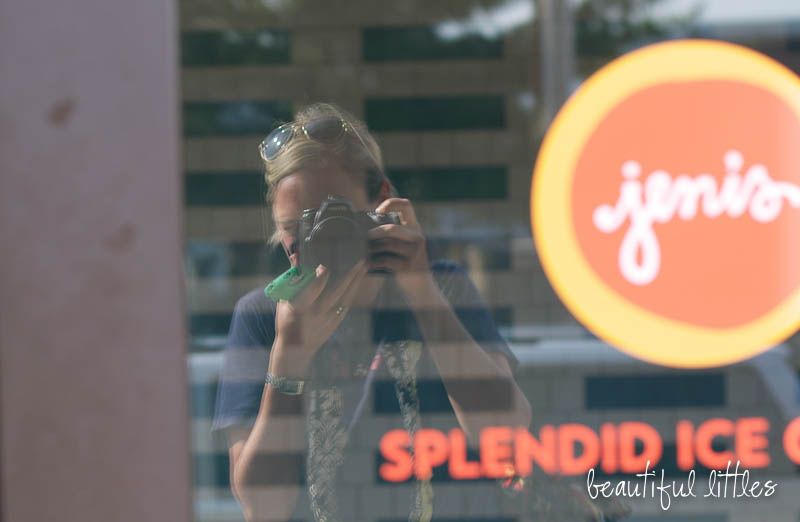 this picture is so typical of me lately. addicted to the dslr camera and the iphone camera, both usually in my hands all the time, taking pictures of everything. it's a problem, i know it, and michael always reminds me of it. :)
so, here's a cute little story. sarah isn't just sarah, she's
our sarah
. last year, harper and i were talking about how kids sometimes get sick and have to go to the hospital to get better, i don't even recall why we were talking about it. but i said to her, "you know, sarah has a job where she gets to take care of sick kids who are in the hospital." harper looked at me, and i'll never forget it, said, "our sarah?" and it stuck. since then, sarah is called "our sarah."
*********
to our sarah,
thank you for hosting a crazy mama and her energetic kiddos the weekend of your engagement. thank you for sharing your town with us, and allowing the 3 of us and our many bags to invade your home. thank you for everything fabulous that you are. we count our lucky stars that we have you in our life.
love, us