my friend, maria, is a children's book author and pens a
fantastic blog
that highlights many topics, including teaching children values, fun crafts to do with your kiddos, happiness and health tips, organizing and so much more. she hosts a fun weekly post called {
things i love thursdays
} where she spotlights her favorite items. she invites other bloggers to join in, so this week i am linking up and talking about one of my all time favorite things, our
zoku pop maker
.
if you've been reading along, you know of my love for this fantastic tool. we bought it last year, along with a recipe book, and we've slowly tasted our way through it. you can make anything with this, and all in only 7 minutes right on your countertop. freeze the pop maker for 24 hours (we leave ours in all the time for whenever popsicle mood strikes!), mix up your ingredients, pour and watch them freeze, and in less than 10 minutes, you get to enjoy your yummy treat! you've got to give them a try. check 'em out
here
. we own the 3 popsicle maker, but they now make an individual maker in many fun colors!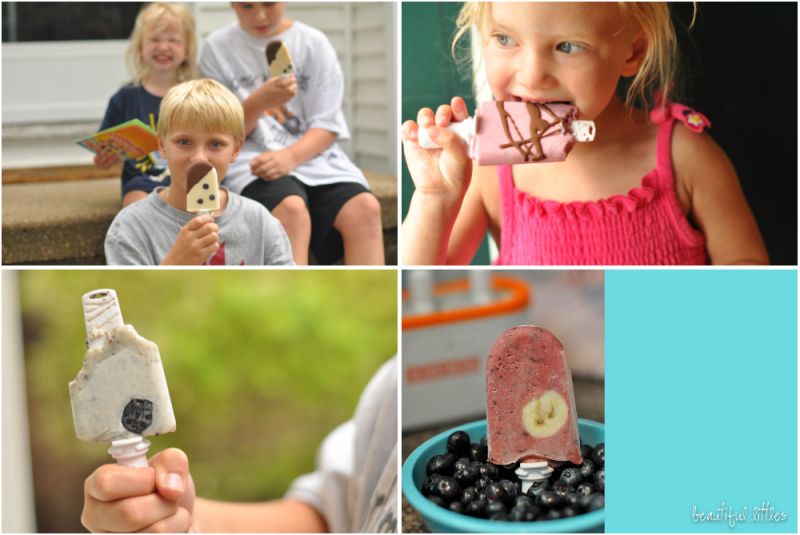 flavors we've made include banana blueberry, cookies and cream, pistachio (my favorite), coconut macaroon, strawberry shortpop, creamsicles, chocolate covered cherry, mint chip, honeydew, watermelon, lemonade, malted milk ball, fudgsicles, chocolate coated cinnamon crunch, coffee buzz, strawberry banana, just peachy. good thing i have lots of taste tester volunteers.
next up...cookie dough...or s'mores...or mango. the possibilities are endless. clearly, this is one of the things i love. head on over to maria's blog and see what her favorite item is this week.