in the blink of an eye, 3 weeks have gone by. 3 weeks of this new routine. 3 weeks of having 2 little loves of our lives. 3 weeks of less sleep and more patience and unbelievable heart-stretching bliss. and it's just worked. crosby has fit into our family with such perfectness that i can't remember what life was like before she arrived. she has the patience that i have heard second babies often have. the patience that will wait to nurse until harper has been put to bed. the patience that will not wail when her nappie needs changing. the quiet alertness that just observes all the madness that is going on around her. she is a little slice of heaven. and so is big sister, harper, who loves on and inquires about crosby countless minutes per day. it makes this mama heart so ridiculously happy.
and because there's been so much these past 3 weeks, here's a post with many random thoughts about what we're loving at the moment. enjoy.
her profile
we've heard people say she looks just like me. just like her aunt heather. just like her cousin, griffin. i see all of it. and i see absolute perfection and beauty. and the way her hand magically makes it's way to her chin or her cheek every single time she's resting, like she's pondering the great wonders of the world or posing for her next big shot. she's going to be a thinker, that little wonder of ours.
tummy time
we've started this for a few minutes each day, and she's a champ already. doesn't cry of whimper. just uses every muscle and bit of strength and determination to pick up her head and find her mama or harper. and then switches it to the other side and plops it down. and does it again. she also uses her little legs to help move her head. i see the yoga poses starting already. locust anyone?
observer
harper loves to watch her little sister. the other morning, i found her staring at crosby while she slept in her bassinet. she tells us all the time i love my little sister.
photographer in training
harper has recently started setting up her subjects and then stepping back with her camera, looking through the viewfinder, giving them directions (put your hands up like this, look at me, get close to tigger) and snapping away.
rain gear
you got to admit that rain is way more fun when you have cool attire.
first pediatrician visit
crosby's first check up at 2 weeks with our favorite pediatrician. harper provided some reading material while we waited, and got to help dr. b with crosby's exam. and this little is an eating champ! she's up to 6 pounds, 5.5 ounces.
first bath
baby bee's first tubbie time. not too much of a fan. probably because it took a bit longer with harper helping and the air was rather chilly. see harper's first bath here and tell me you don't think they look identical? these 2 will not be able to deny they're sisters.
we made another trip to the local gymnastics gym for preschool play time. harper is always shy to start, but quickly finds her inner gymnast. she becomes a runner, climber, balancer and jumper, of course. daddy helped with the rings and the rope climb this time before he headed off for tigers opening day. this was his 10th annual trip to downtown for it, and since crosby arrived a bit earlier than expected, i gave my approval for him to go. i certainly wasn't going to attend in that cold rain, but he's a loyal fan.
first, the eastons were neighbors we didn't really know too well. but as we ventured between houses slowly and courted each other, we quickly became friends. great friends. and now our littles have become best friends. there is not often a day that goes by that one of them doesn't ask to see the other, play with the other, or at least ask where the other one is. hunter and harper are 2 peas in a pod. and when sunday brought 80 degree weather, we were back into the swing of impromptu barbecues in one of our backyards. you bring the beer, we'll bring the brownies. here's to a spring and summer filled with impromptu get togethers with these guys.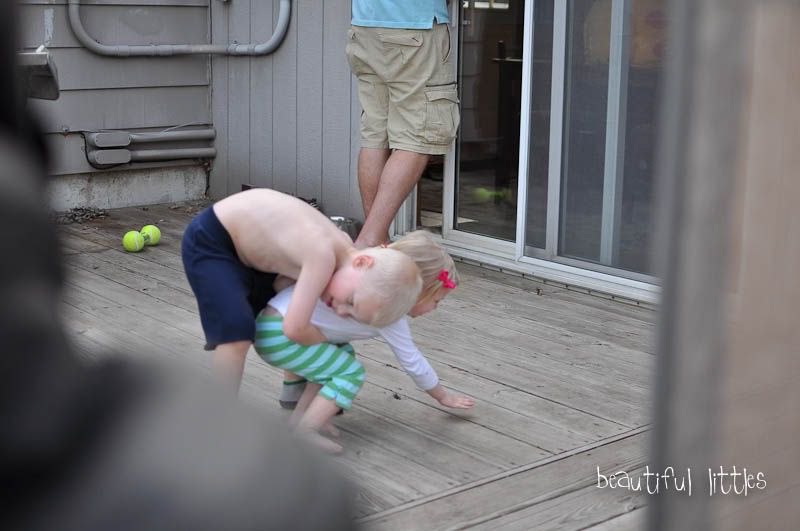 this next 3 part series is a guest photographer- photography by chad easton. not too shabby.
where has the time gone? 3 weeks for us, 3 months for this little bundle. to welcome baby kaelyn, i gifted jacque the
picky sticky
's and a monthly mini photo shoot with a bundled book at the end of her first year. here are months 1, 2, 3. i did manage to get a smile for the most recent pictures, but only when the camera wasn't in front of my face.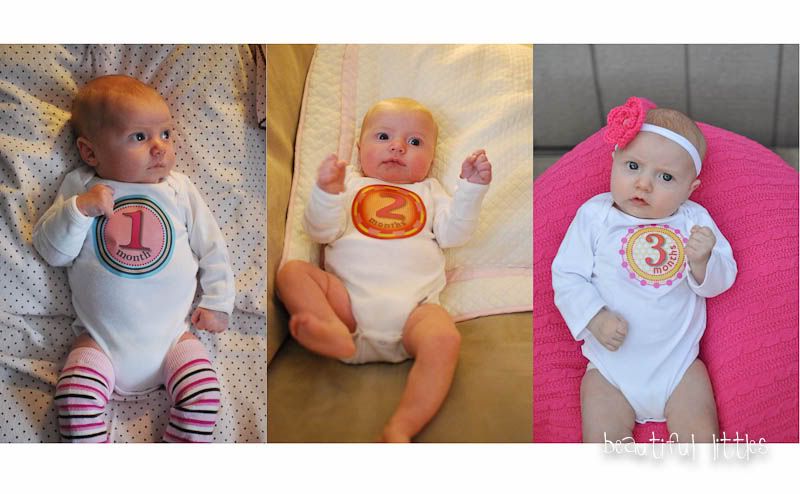 random memories for so much that has changed and happened in our lives these last 3 weeks. looking to enjoy the next 3 weeks, months, years, decades with my 2 littles.