it's time to take a second and give a big shout out thank you to the people who make a difference in our lives and don't often get recognition for it. recently, for us, it was our amazing nurses at st. joe's who kept this mama going during a long and difficult labor, brought our baby girl safely into the world, and helped us adjust once again to life with a newborn those first couple of days in the hospital. we were so lucky to have such amazing nurses and we can't thank our lucky stars enough for these wonderful women.
(side note- please disregard the lovely days of pretty hospital hair, makeup and clothes. i obviously was not camera ready!)
first, to tina, who came onto her shift and into my room. i was her only patient during her 12 hours and she was amazing. she spent all her time with us, sharing her knowledge, getting this little tiny bundle moving so that we could meet her, reassuring me that all was ok and encouraging me to keep going. i can't thank her enough for everything she did for me and for my family.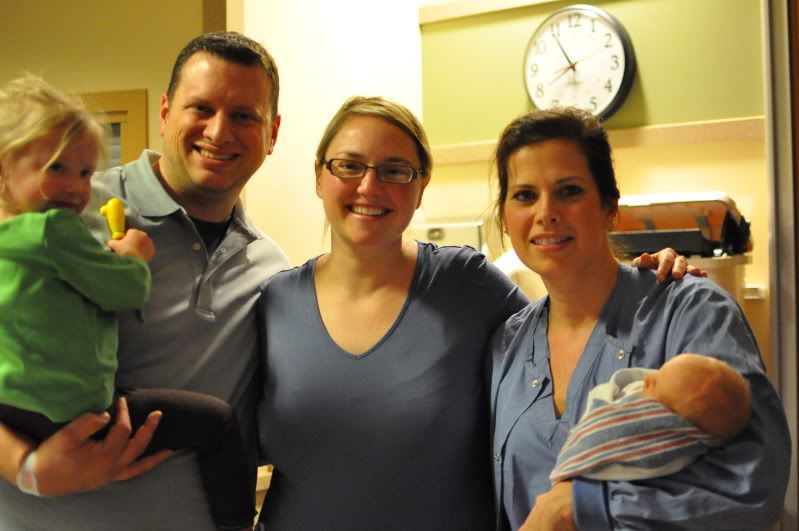 second to marie, who was hand-picked and passed on to us especially by tina when her shift was ending. marie got me through the long exhausting night, the epidural, the last painful contractions and the miraculous first meeting with our little angel. crosby was born 30 minutes prior to her shift ending. she spent her entire shift with us, and i can't thank her enough.
i also can't forget to thank dr. a. out of 8 doctors in my practice, she was the one on call when we arrived. she also was 30 minutes from the end of her 24-hour shift when crosby arrived. she provided me the encouraging motivational words to keep going through just one more contraction, and brought our little girl safely into this world and into my arms.
and last but certainly not least, was our mother-baby nurse, molly. as i was getting wheeled down to my room, i passed molly in the hallway and we immediately recognized each other. i glanced at the board in the nurses station as we passed, and saw that our room number was written next to molly's name, and my heart jumped for joy. molly was our mother-baby nurse when harper was born. she was an angel and got us through those first 3 days of harper's life when michael and i had no clue what the heck we were doing or how to handle this new little life that we had just brought into this world. she made such an impression with harper, and i was forever sorry that we didn't exchange contact information, so i was thrilled that we had her again. she was with us all 3 days again with crosby, and on our last day, we hugged and cried and promised that we would always keep in touch. i am so thankful that fate brought her back to us. this woman exudes strength, calm and grace. she was an inspiration and cared for our entire family with such amazing compassion. and we aren't letting this second chance of her coming into our life pass again. we'll be seeing her soon.
here's proof that she cared for harper, too. we rummaged through our computer photos and pulled this picture out to show molly.