it's about to change. we're on the brink of a world we know nothing of yet- one with 2 littles. i'm excited and nervous and happy and sad all at the same time.
it's 3:01 am as i sit and type this. and it's been a month from tomorrow since my last catch up post. crazy how the time recently has just flown. i can't tell you how many times i've come to this blog ready to post some photos and thoughts, only to be stolen away for being way too exhausted or having to pick up another mess or needing to snuggle with my so-close-to-being-3-year-old-it's-scary. there's been lots going on that deserves to be written down for harper and soon-to-be new little one to look back on, but such is life.
mainly, i am up right now because this thunderstorm that's rolling and flashing outside our windows has me up in a panic. only just this friday, as i met with my doctor for my weekly check in, did i ask what the likelihood of me going into labor from the full moon this weekend would be. he assured me that there have been studies that didn't correlate a full moon to an increase in the number of mommies-to-be showing up in labor and delivery, but that a change in barometric pressure did. and thus, our thunderstorm. so, i'm up, writing down my thoughts and sharing pictures because i'm nervous this might be the last time i'm able to sit for a while and jot down the million things running through my head. that, and harper called out for me to lie with her in her bed for a bit. i really don't mind her nightly calls. they're few and far between, and i love getting the chance to snuggle with her. i have to get used to being up again a million times in the middle of the night anyways, so i guess she's just preparing me.
another big event that happened at our friday appointment was an unlikely turn of events. at my 34 week appointment 4 weeks ago the doctor informed us that the baby was breech. this baby with the april 1st due date just kept us on our toes yet again; such a practical joker. i had such a great labor with harper, and i was really hoping for that again. i had to slowly come to terms with the fact that it might not. i am the epitome of a planner. and if things don't go the way i had them laid out, i stomp my feet (not always literally), huff and puff, and then get to work on developing and accepting a new plan. so, i resolved myself, after some crying and complaining, that this baby might just be born via cesarean. and eventually i came to terms with it, but not without trying to get it to flip. i didn't go overboard, but i did do some strange things. mainly this... (set on top of pregnant belly so the head would turn away from the cold)
and this...
yes, michael is burning my toe (see the steam in the second photo?). i met with an acupuncturist so i could learn the ancient chinese art of moxibustion. basically, a moxa stick is placed at the pressure point in your pinky toe, lit and let burn until the pregnant woman feels the ouch of the burn, and then it's snuffed out and done again 6 more times. and this is then to be done 2-3 times a day, ideally. the premise is that the energy from the burning moxa is sent up through the leg to the womb where it spins the baby. sounds crazy, and even the acupuncturist warned me that it was weird stuff, but i believed and honestly, this baby moved a whole lot more following the first burn of each evening. so that, along with a one time visit to a chiropractor (which made me more nervous than i originally thought and thus i refused to go back), sustaining a position on all fours with my head on the ground for a few minutes a couple times, and physical therapy to help realign my sacrum so i could stop limping around like an 80-year-old woman.
something must have worked, or else the baby just really wanted to keep us guessing, because the doc informed us friday that baby was now head down. and for that to occur at 38 weeks, when there really isn't much room to do lots of flipping and spinning, is a miracle in itself and not something that i thought would really happen. but i was elated. so, our c-section that was scheduled for march 31st will just have to be given away to some other mommy. i'm not taking it. we're back to wondering when our little one will arrive, and loving every minute of the waiting game.
so this life as we know it now is going to change soon enough. and i look back at this last month at what we've been able to enjoy...
morning coffee in a sunny, yellow cup while we sit and put 40 piece puzzles together for the umpteenth time to go along with the sunshine and slightly warmer days that have shown up on occasion and slowly melted away the mile high snow banks that have been surrounding us for so many long, cold, dark months.
piggie tails, when she allows me to actually do her hair.
open preschool gym with our friends, kellie and anna, during our mid-winter school break. so looking forward to our weekly play dates again this summer, and perhaps while i'm off on maternity leave, too. we had good intentions to keep it going through the school year after our every tuesday meeting last summer, but somehow, life slipped in there and we didn't meet up as often as these mommies would have liked...and needed. i hope i'm instilling in harper how important girlfriends are. i don't know where i'd be without the amazing ones in my life. and how cool will it be when harper and anna can grow up and be able to say to everyone- hey, our birthdays are only 15 days apart and we met through our moms when we were 3 months old!
celebrating a first birthday, along with 3 pregnancies and a newbie. tina (on the very left) and i are due merely 2 weeks apart, and jeni (second from left) is due in june with her third. candice on the right welcomed baby reese in december. us girls met through our husbands, who were fraternity brothers in college, and have become very close. we've celebrated spartan victories and losses, college tailgates, new years weekends, plain-old-get-togethers and bbqs, bridal showers, weddings, knitting nights, girls night poker 101 with a hired in scary casino dealer so that we could actually play with our husbands, first births, second births. the list goes on and on.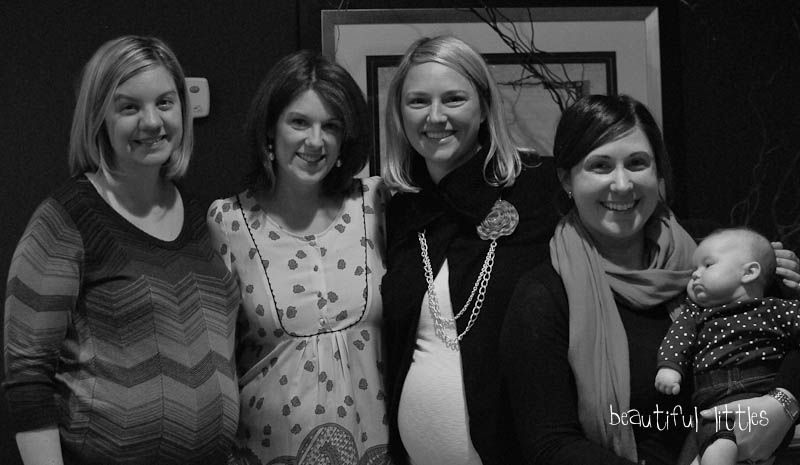 so that was the past month, and this weekend brought even more. harper and i got to model for some maternity photos with my very good friend,
christina
, saturday morning. so fun! i attended a bridal shower saturday afternoon, and when i got home, i walked in to harper post-nap, the sun shining and my new upgraded camera body just waiting and begging to be trialed, so we quickly got ready and headed up to the park. talk about life as we know it. what a difference a winter makes- our little cautious one has turned into the one that's willing to try anything and wants to do everything herself. it had us smiling and laughing and running all over the playground just to keep up with her energy. she wanted to climb up structures that were quadruple her height and walk on wobbly bridges and scale the rock wall and slide down the big twisty slides all on her own. and i attempted to figure out my new d90 that i am just (in my best soprano voice)
looooving
to capture her in all her glory!
we also got to escape to a tropical island for breakfast sunday morning-banana pancakes made with coconut oil. it's the closest we'll get to palm trees and the ocean waves for a long while, but when i closed my eyes and opened the magical (and healthy) jar of coconutty goodness, i swear bob marley and a steel drum band were whispering sweet melodies in my ear as i sipped my pina colada.
and this doesn't fit so well, but just can't be left out. because we've been able to spend more time outside, meaning bikes are finding their way out of the garage again, the helmet has become more than just a means of safety while pedaling away. just last year, it took lots of convincing to get her to wear it. not this year. nope, it's meandered into the house and become the latest fashion accessory. wake up, put on helmet with pjs. change into clothes for running errands, put on helmet as we drive the 1/2 hour to costco. take off helmet because mommy and daddy would prefer not to lose it in the store. try on the million other helmets that we locate as we peruse around the sporting goods store while daddy picks out his golf shoes. cry at dinner out with the family for nana's birthday because the helmet isn't covering her head. oh, it's too much. but i'm glad she's learning the term safety first!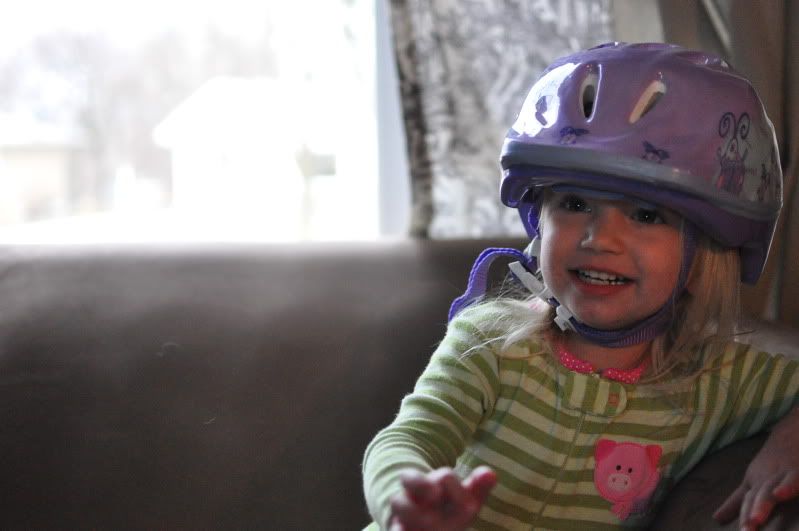 and there you have it. a brief (ha!) little catch up to our life the past few weeks. can't promise that posts will be happening more frequently- i have no idea what the next couple weeks will hold, but you can bet i'll keep coming back here, to this beautiful little life of ours. and with that, i'm back to bed to catch a couple more hours of snoozing before the alarm rings and it's up and at 'em for work and school and the life that keeps us marching on.