eureka! i've found it! the joy of my photography is back, ladies and gentleman. and it's all from this online class i'm taking. in a 6 minute video, i managed to relearn (or learn what i didn't in my actual 8 week sit-in-a-seat-and-listen-to-the-teacher-class) how to take better photos by paying attention to a little meter inside my lens. what have i been missing these last 8 months?! and the holiday season that so quickly came upon us? i'm super excited to capture all the little moments that make it so special, to see the wonder through my child's eyes and to be able to relive it all over again when it suddenly comes to an end. so, yes, already, even after only 4 days of class, i'm managed to find the holiday joy.
and here are some photos from this lingering illness (but trying to not let it ruin our christmas decorating extravaganza) weekend.
a fireside snooze at nana and papa's house while daddy was home getting some things done around the house. in their sleep, while i was capturing this moment, they managed to find each other's hands.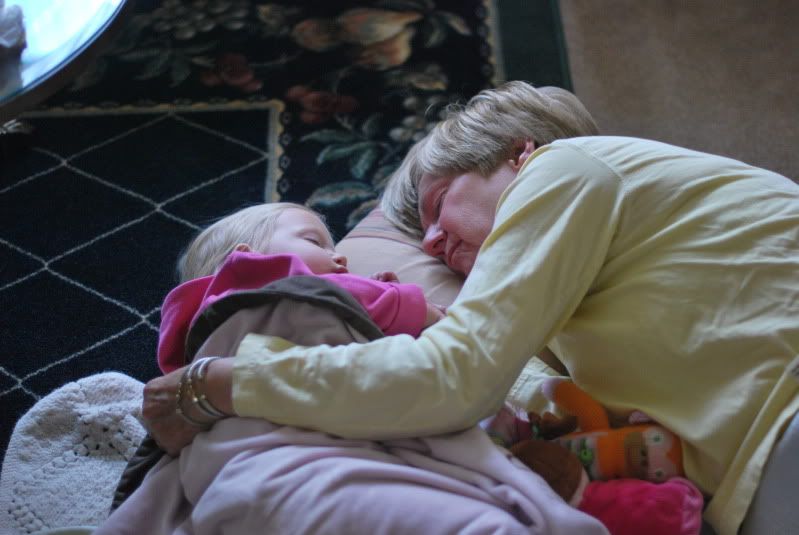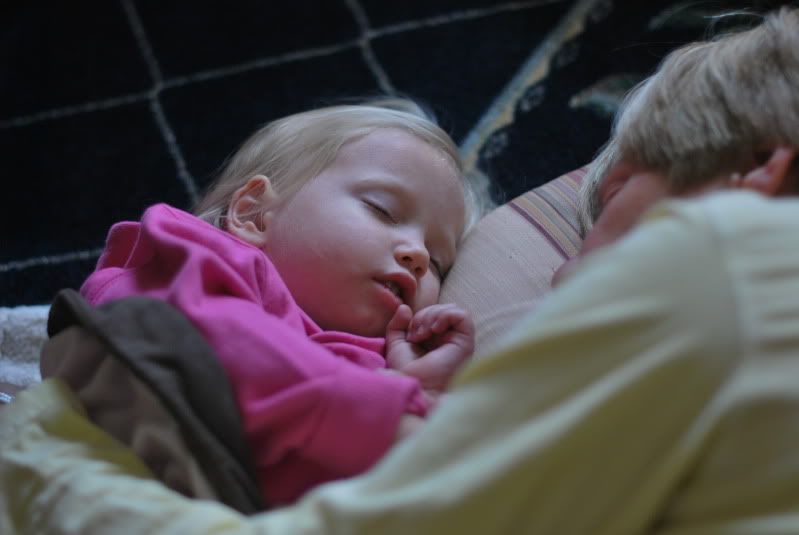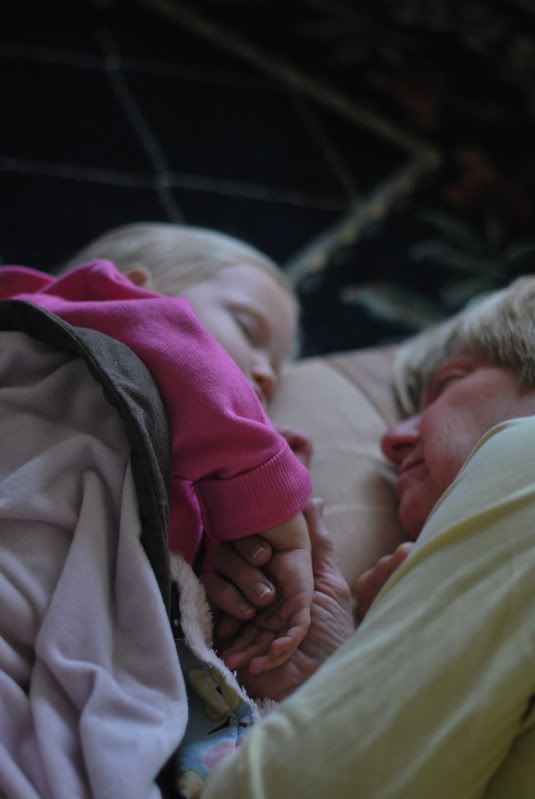 a walk and bike ride outside in the sunshine to banish some cabin fever.
stringing the lights.
decorating the window with our "sticky snowman."
the tree topper, and our little helper.
harper's first ornament.
helping mommy. yup, it's evening time and we managed to stay in our jammies all. day. long. love it.
the view from outside our front door.
my all-time favorite ornament. i bought this a few months before our wedding, and swore i was going to curse myself by having our wedding date hand painted on the back. so glad i was wrong.
a german tradition- after all the gifts are handed out and opened, the hunt begins. whoever finds the pickle hidden in the tree receives the last present of christmas.
a post-decoration dance. music provided by the ending credits from the polar express. have to have the christmas movies on during decorating, and polar express is slowly beating out national lampoon's christmas vacation.
we ended the evening, pre-bath and bed, with hot chocolate, complete with homemade marshmallows. yup, you heard right. i said homemade marshmallows. michael could tell i was giddy that they turned out. i love having loads of marshmallows in my hot chocolate, and it was made even better by these fluffy, vanilla flavored clouds of heaven. that i made. try them- recipe below.
this is where harper's been sleeping the last 4 nights. kicked michael out to the couch, and cozied up with mommy all sick and feverish. but, tonight, it was back to her own bed. but not before some book reading, prayers, songs and snuggles in our bed.
and a new favorite book of ours. we got to meet the author at our local borders, listen to a reading and get her autograph. being an author, she was quite impressed by harper's name, and quickly asked if she was named after the author of to kill a mockingbird. that she was. it made it all the more special. but seriously, this book rocks.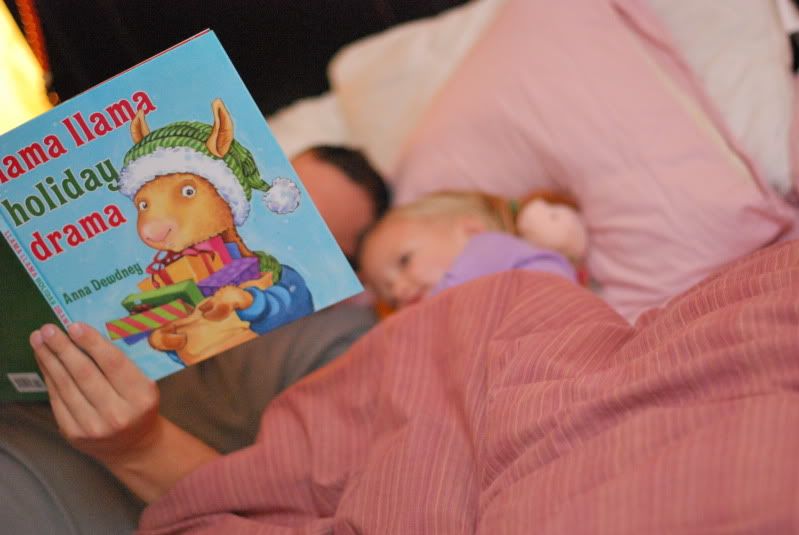 visions of sugarplums are dancing in my head and i can't wait to share more of our holiday moments.
~~~
homemade marshmallows, from the french laundry
3 envelopes of Knox gelatin
1/2 cup cold water
2 cups granulated sugar
2/3 cups corn syrup
1/4 cup water
1/4 teaspoon salt
1 tablespoon vanilla extract

In the bowl of an electric mixer, sprinkle gelatin over 1/2 cup cold water. Soak for 10 minutes. Combine sugar, corn syrup, and 1/4 cup water in a small saucepan. Bring to a boil and boil hard for 1 minute. Pour boiling syrup into gelatin and mix at high speed. Add the salt and beat for 12 minutes. Add vanilla and incorporate into mixture. Scrape into a 9 x 9-inch pan lined with oiled plastic wrap and spread evenly. (Note: Lightly oil hands and spatula or bowl scraper). After pouring marshmallow mixture into the pan, take another piece of plastic wrap and press mixture into the pan.

Let mixture sit for a few hours (about 2 or more). Remove from pan, dredge the marshmallow slab with confectioners' sugar and cut into 12-20 equal pieces with scissors (the best tool for the job) or a chef's knife. Dredge each piece of marshmallow in confectioners' sugar to avoid them sticking to each other. Keeps well for up to 3 weeks.
*emily's notes: i used coconut oil for the pan and my hands (and avoided the oiled plastic wrap). good for you, and adds just a tad of coconutty flavor to the marshmallow. yummy. i also used an oiled pizza wheel cutter to cut my marshmallows, and i ended up getting a whole bunch because i cut them up into smaller pieces. enjoy in hot chocolate, rice krispies treats, anything!