both figuratively and literally. a busy weekend was had last weekend. and while this post is happening several days after said weekend, it took me a while to pull all these photos together. apologies ahead of time for another long post...
*************************
we visited the parking lot of the mall saturday morning. sounds fun, doesn't it? on it's own, maybe not. but fill the lot with lots of things that go, including school buses, a city bus, an army tanker, a john deere tractor, a library book mobile, a moving truck, a police car, a fire engine, an ambulance, a red cross van and a garbage truck, and you've got touch-a-truck. a free event sponsored by the city's early intervention programs and the meca-event for rough and tumbly boys. harper squealed with delight when we pulled up and she saw the school bus, which she typically loves to watch out the window of our car and count the row of when we pull up to the school. but once we brought her onto an actual, real-life bus, she changed her tune. she got all clingy and nervous, and was only set on getting herself off. she had the same reaction on all the other large, expansive vehicles. but put her in the driver's seat of the police car or army tanker, and she was all smiles and song. but the highlight, despite the scattered rain showers, was the dum dum suckers. she got 2. and she licked them both clean, and i've never seen her happier.
later in the day, we attended a birthday party for a friend we've known since postnatal/baby yoga when the babies were a mere 3 months. they live on a fabulous farm and had a wonderful party filled with all things kids love-bubbles, ice cream cake, lots of free space to run around and ride on toy tractors. more things that go- a running 2-year-old jackson, the 2 of them in a wagon and a harper seated on her own mini john deere. we actually stayed an extra 20 minutes, diaper bag in hand, because she refused to get off.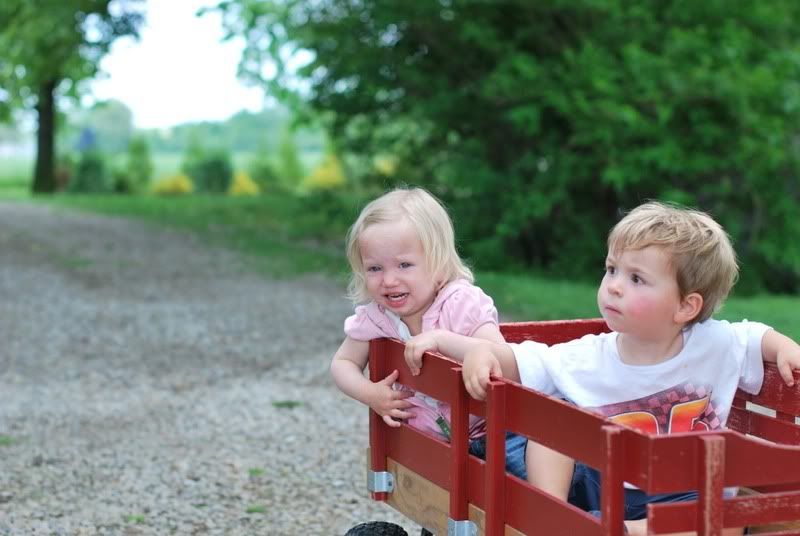 apparently, she was thoroughly enjoying this wagon ride until mommy came back outside.
********************
we've inherited another antique from nana and papa. the red radio flyer is actually only 8 years old or so and was handed down from my nephews, but the blocks that bolt onto the pedals to allow legs that are not yet long enough to reach the original ones to be able to pedal were built by my grandfather for my brother's first tricycle, over 40 years ago, and were used on all our bikes since. i'm thankful that my mom held onto these. they mean a lot to our family, and i love sharing family history with harper. and my mom wants to be able to continue sharing it. i specifically remember her telling me as she handed them over
i don't care what happens to the tricycle, but guard those blocks with your life.
gotta love family treasures and how you'll do anything to protect them.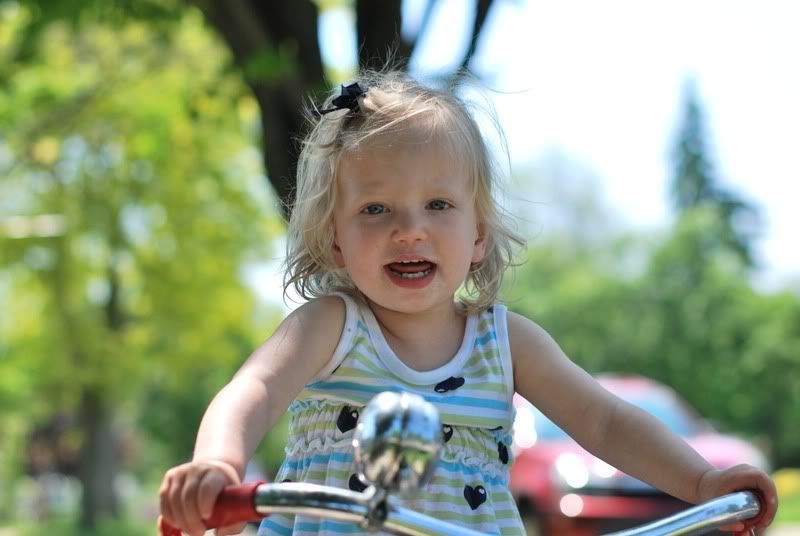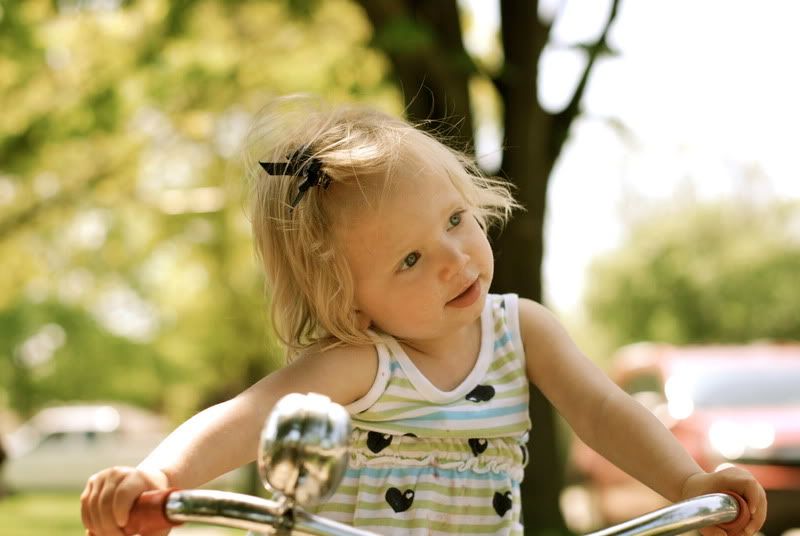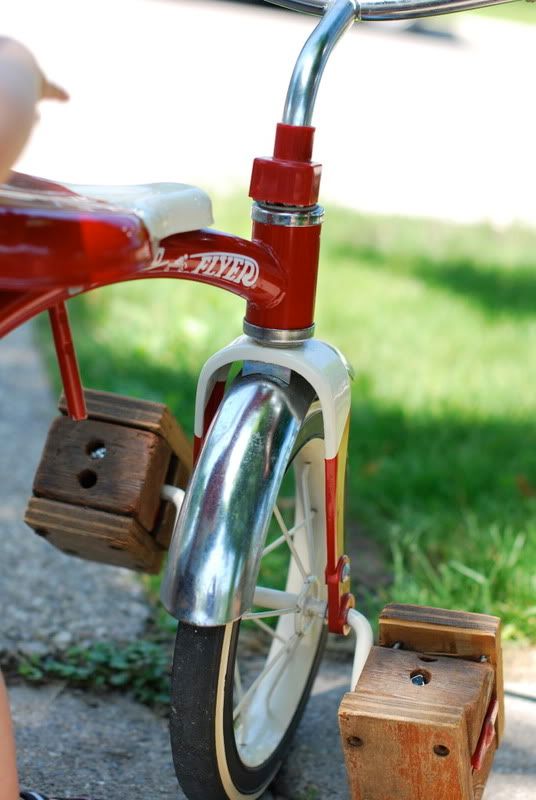 and another inheritance from michael's aunt and uncle this time. they housed several of these bikes at their house for their grandchildren, who have recently moved to florida. so she offered one to harper, and we're so thankful. she fits on it perfectly and is learning how to pedal with daddy's help.
since we obtained these bicycles, it's become an obsession. harper wants to ride all day. even if it's just sitting on her radio flyer, purple helmet perched atop her blond locks, kicking her too short legs around, and singing her latest tune.
alas, a post of things that go. vehicles and bikes and the days of our babies being itty bitty. they're growing up quickly. too quickly. and all we can do hang on and enjoy the ride. and oh, what a delicious ride it has been so far.