i love being a mommy. i love hearing harper call me by no other name but
mama
. i love knowing that she is the only one in the world who can call me that, for real. and yesterday, i got to soak up all the mommyhood glory.
i got to sleep in, a little bit. michael and harper were making breakfast, and i really don't think they meant to set off the smoke alarm. i stayed in bed anyways, even though i was awake. a few moments later, in walked our breakfast-in-bed tray with 2 plates- one for harper, and one for me. my favorite breakfast in the world is fruit crepes, and michael whipped up a batch with warm, brown-sugary-banana filling with strawberries on top. add to it a large cup of coffee with enough cream to make it the color of a starbucks frapuccino and i was in heaven. later on, a brunch with my family. a long nap for harper (and a short one for me), which gave me the time to repaint an antique desk for our family room. some landscaping work done by michael. a steak salad dinner, and a trip to the dairy store for some good, old-fashioned hard ice cream.
and to the moms in my life...
first, to harper... not a mom, but made me a mom. thank you for letting me love you. thank you for bringing smiles and sunshine to my life. thank you for opening up my soul and stretching my heart farther than i ever thought it could go. you are my everything, my harper bean.
to my nephews...i was a "mom" to you both first. thank you for teaching me how to raise good kids. and thank you for your unselfishness and love to harps.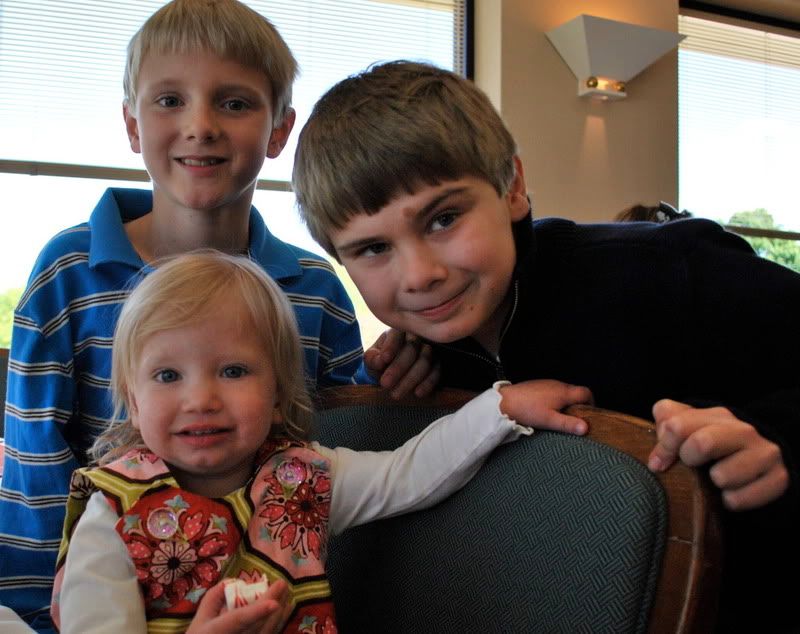 to my mom...thank you for showing me gratitude, strength, perseverance, compassion. thank you for teaching me independence. thank you for showing me how fulfilling giving of ourselves can be. thank you for teaching me love, no matter what the circumstances or consequences. thank you for wrapping your heart around your children, children-in-law and grandchildren and promising to never let go.
to my sister...my other mother. thank you for being my second mom. thank you for taking care of me when i was little and colicky so mom didn't lose her mind. thank you for teaching me things i never thought i would need to know. thank you for carving a path and lighting the torches to make life a little easier. thank you for being my sounding board and the one i share everything with. thank you for loving harper as your own.
to my mother-in-law, diane...thank you for raising such a loving and amazing husband and father. thank you for loving me as your own daughter. thank you for the abundant love you share with harper.
a sweet ending to a scrumptious day. the sunlight streaks through her blond locks as she enjoys not one, but two, ice cream cones. back and forth, unable to decide which one she likes best, and then finally giving both of them up to dance with her daddy on the sidewalk.