call me crazy (some of my friends have), but we haven't been sitting in the house many days of my maternity leave. i strive for balance, blame it again on my libra nature. there are days when i just want to laze around the house, and then there are days i am itching to get out and do something. i guess this results from not wanting harper to miss out on anything, especially with a new little one in the house who has stolen some of her attention.
but because of the days we laze around and the days we are out adventuring, our house is most often in a state of pure disruption.
laundry goes unfolded for days. dishes don't get put away. toys are strewn all over the house in every spot where there's an inch of openness. the book i'm trying to browse through is in a new spot every time i pick it up only to put it down 2 read words later. there are 5 infant contraptions, all that basically do the same thing, taking up precious floor space and causing too-many-to-count stubbed toes.
(and i honestly did not stage a single item in these photos.)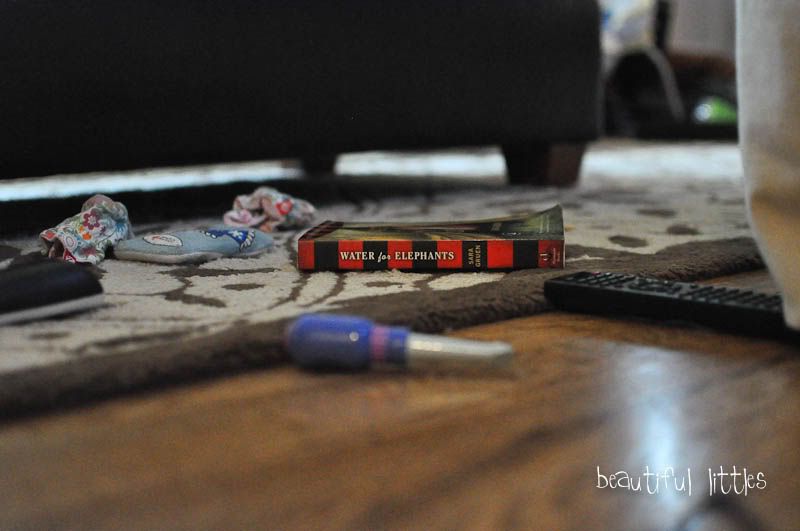 go see this movie
. went with some girlfriends, mainly for some robert pattinson viewing, and wound up with tears and emotions and awe. excellent. it was as good as the book, in my opinion.

but at least i have help.
she even likes to help me while i "work."
we may occasionally reside among mountains of toys and dust and clutter, until i just can't stand it anymore and embark on a cleaning spree, but at least there is happiness in our home.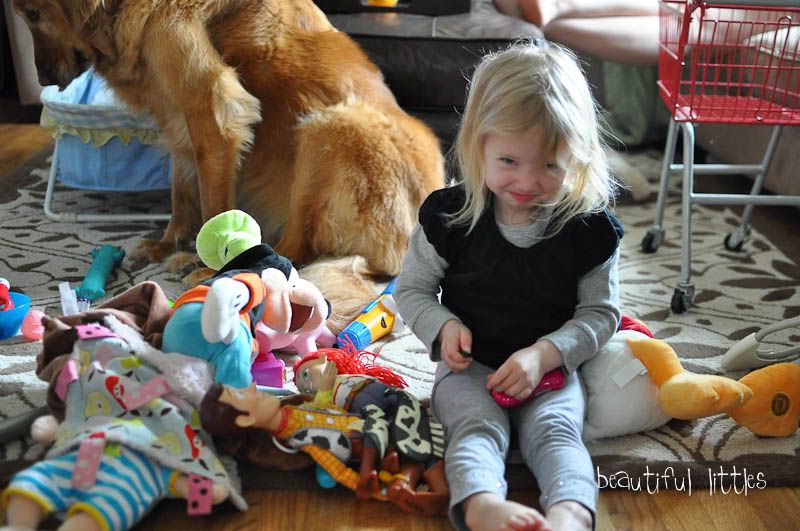 so, back to the balance. 2 weeks ago, after a doctor appointment, we ventured to the movie theatre for
rio
. we were running a few minutes late from picking up a few things at the store, crosby had just started waking up, crying and ready to eat, and i was nervous that we were going to disrupt the patrons already in the theatre. ignoring the please do not bring in outside food sign on the door (we paid $14 for an almost-three-year-old and me to watch a movie, seriously?! i am not also paying for your $6 tub of popcorn and $3 box of candy, thank you very much. i will sneakily hide my whole foods pizza slice and bag of kettle corn under my nursing coverup in my diaper bag), we rushed into the theatre to realize we were the only people there. a huge stadium seating theatre and just the 3 of us to enjoy our own screening. it was great. harper noshed on her treats, i nursed in the dark and little one slept the entire time, lulled by the louder-than-it-really-should-be calypso music and dialogue. we had a great time, until i realized that we missed the window of nap time entirely, and with music class that afternoon and michael being gone for class, i was in for a rough evening. i did manage to get her to bed reasonably early, but that meant she was up several hours in the middle of the night. so was her sister, and thus, so were michael and i. and that meant my planned adventure of taking both kids for a full on grocery store trip the next morning had to be cancelled. i saved it for another day. balance.
we learn to balance family and friends.
we balance times of movement with moments of needed rest, which is how it goes for our maximus right now. after slipping and sliding too many times on our new bamboo flooring in the kitchen, he completely ruptured his acl requiring surgery and 2 weeks of lazing around. plus 12 more weeks til full recovery. try telling that to the dog who chases after squirrels and runs circles in the backyard. this isn't an easy feat, and i've quickly realized we have just acquired another infant.
we balance cool weather days with days of heat and sun, calling for impromptu sprinkler runs.
this was all her idea, coming from the girl who wanted nothing to do with sprinklers last summer.
clean, dry play is balanced with dirty hands and knees, truly a sign of spring.
and in every sun, a little rain must fall. but that doesn't mean that we can't enjoy it all the same.
learning to balance takes effort. a lot of it some days. but our two littles make it all the more worthwhile.