we're back! and we've missed you!
i have a lot to catch up on. it's been over a month since i blog posted, and not sure why that is. probably because first of all, the internet on my computer froze and wouldn't work for over 2 weeks. frustrated, mainly because we weren't at home (more on that to come), it only took a 10 minute phone call to apple in the end to get things straightened out. so, once that was working again, i should have been itching to blog. and i was, but was just not focused enough to do it. we were living at my sister's house, while our kitchen was being renovated, and then getting ready for our family roadtrip. we were enjoying the laziness of summer, taking daytrips and visiting with friends, enjoying naps and relishing in the joy of not having anything to do. i think i let that go to my head a bit too much. so now, i am backlogged and have a lot to post. i'll work backwards through this week, but i'll start with our most recent event...
two sundays ago, my sister and i packed up ethan, griffin, harper and the car and drove southeast to virginia. (i took this picture mainly so we could remember how my packaging engineering husband packed all our luggage in the first place since he wouldn't be with us to repack it when we left. and to recall the amount of crap we brought, er, needed?)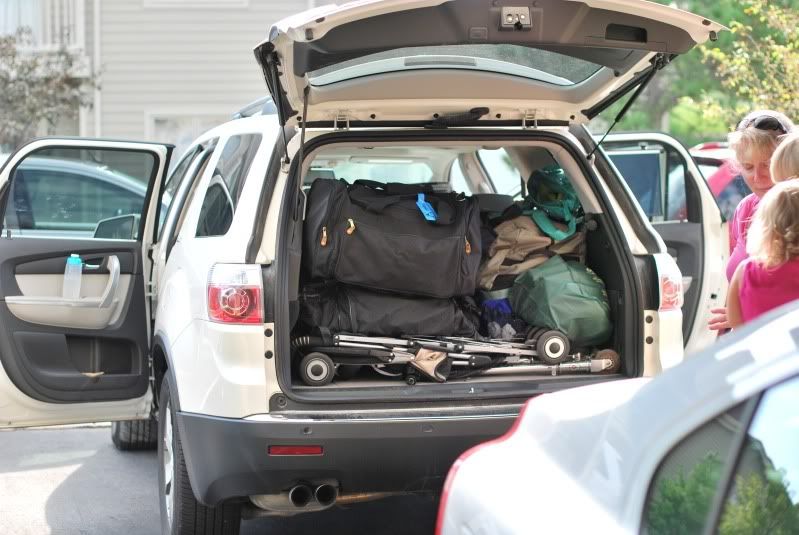 we made sure to include plenty of movies, reading material, music and toys to keep the kids entertained during the 8-and-a-half hour drive, not including stops. i was behind the wheel and heather had her twilight saga books to devour. we took to the highway, and were on our way to see our brother...
...and our sister-in-law, stephanie. we arrived after 10 hours in the car, exhausted and just wanting to stretch our legs.
we enjoyed a low-key meal when we arrived in town, and the rest of the week went a bit like this:
lots of swimming in their community pool. harper actually found some courage and jumped in with me. we proceeded to kick back and forth across the pool over and over and over. we blew bubbles. she jumped in from the side. and for the first time she found her water baby within.
griffin and ethan on the other hand have always been in touch with their inner fish.
we took long baths in the jacuzzi tub and snuggled in towels.
on tuesday, we pulled out our tourist cards and visited some sights downtown d.c.-
the washington monument
the world war II memorial, where we could kick off our shoes and dip our piggies in the fountain. a relief from the absolute heat of the day.
the white house, from afar
the reflecting pool and the lincoln memorial
we also toured the museum of natural history and the national aquarium, and harper re-entered the sunny day with a snooze in her stroller.
at the end of the day, we visited chris at the pentagon, where he was working and where we got an exclusive tour.
we ended the week with a saturday afternoon bbq with lots of family. my parents flew in. my cousin, katie, along with kenny and collier and kenny's mom, joined us from d.c. we enjoyed ribs and homemade german potato salad. and of course, dessert from my fave cupcake place
georgetown cupcakes
, which is now starring in it's own show on tlc, d.c. cupcakes!
we decided on a post-dinner swim, for collier's first time in the pool and harper's first time with a squirt gun.
we had a wonderful week visiting with family we don't often get to see. we were able to relax and ready ourselves for the drive back home on monday morning. we actually made it back quicker than our ride down, with the exception of the hour break along side the highway 20 minutes from home because we ran out of gas!! seriously, i have never done that, but thankfully, we were all together and we were all in good spirits, finding the humor in the situation. when we were rescued by the tow truck driver and his can of gasoline, we were all too anxious to get home to our beautiful new kitchen! more on that to come...
glad to be back.